Agreement Provides New Exchange Opportunities at Juniata College
(Posted February 17, 2022)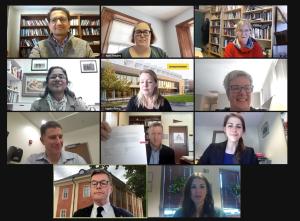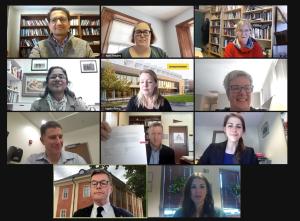 HUNTINGDON, Pa. and VÄXJÖ, Sweden — Juniata College and Linnaeus University entered into an agreement of academic cooperation and exchange February 15, a partnership that not only spans the Atlantic Ocean but crosses disciplines and backgrounds as well. 
The Baker Institute for Peace and Conflict Studies at Juniata College was integral in the creation of this new exchange program. 
"These collaborations and partnerships are the wave of the future for schools like Juniata College and Linnaeus University," says Juniata College President James A. Troha. "Our world continues to grow smaller. Our students are seeking opportunities to broaden their skill sets and to be introduced to other cultures."
The exchange agreement will continue Juniata's mission of providing a personalized educational experience to empower students to lead a fulfilling life of service and ethical leadership in the global community. The partnership will promote international understanding and enhance educational and research opportunities for both students, staff, and faculty at both Juniata College and Linnaeus University. 
"There are many dimensions to this exchange that will bring great value and synergy," says Peter Aronsson, Vice-chancellor of Linnaeus University. "We can learn from this exchange and its substance. America stands very strong as an inspiration and historical example of bold explorations of freedom and creativity in all dimensions of life."
The moment marked Juniata's first exchange agreement with an institution in Sweden, which was brought about through a connection between Zia Haque, Ph.D., director of the College's Baker Institute for Peace and Conflict Studies, and Manuela Nilsson, associate professor of Peace and Development Studies at Linnaeus University. The two met while Haque was a graduate student studying Peace and Development work at Linnaeus University.
"This is an excellent opportunity and a step forward in offering a world-class education to our students," Haque says, voicing his appreciation for all of those at both Juniata and Linnaeus who worked to make this agreement possible, including Caitlin Murphy, Dean of International Education, Stacia Fleegal, Baker Institute Program Coordinator, and the members of the Board of the Baker Institute for Peace and Conflict Studies at Juniata College. "As a proud alum of Linnaeus University myself, I'm extremely delighted to see the success of this initiative."
Nilsson expressed her pride in her former student and observed that different approaches to peace studies between the two institutions will serve to complement one another.
"This exchange agreement is an opportunity for all students at our two universities, but I am particularly pleased for the students in my area within Linneaus University," Nilsson says. "The most successful and sustainable exchanges are rooted in personal relationships because that makes it go on and on. I'm confident this one will stand the test of time."
In addition to traditional, study-abroad exchange opportunities, the agreement will also provide opportunities for enhanced Cooperative Online International Learning (COIL) for both faculty and students. 
"Gathering on Zoom underscores the power of these kinds of relationships. There are so many possibilities for us in having our faculty meet with one another, whether we're in Sweden or the United States," says Juniata College Provost Lauren Bowen. "That is in addition to thinking about short-term study abroad experiences and hosting delegations on each other's campuses. This partnership can represent the best of what we understand intercultural and international citizenship to be."    
Contact April Feagley at feaglea@juniata.edu or (814) 641-3131 for more information.