International Security Expert to Serve as Fulbright-Garcia Robles Mexico Studies Chair at Juniata
(Posted February 24, 2022)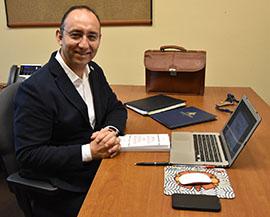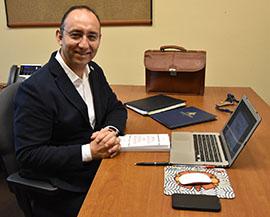 HUNTINGDON, Pa.—Alberto Lozano-Vazquez, an expert on international security, is teaching Juniata College students the importance of taking an international perspective on transnational problems.
He's teaching two classes in the spring semester through a Fulbright program aimed at building mutual understanding between Mexico and the U.S. through educational and cultural exchanges.
Lozano-Vazquez, Distinguished Visiting Professor of Politics and Fulbright-Garcia Robles Mexico Studies Chair, is teaching courses on Mexican political history and transnational organized crime, a field in which he is well versed as a researcher specializing in international security threats. 
"In the class on Mexico, my point is to share some of the key aspects of my country in terms of economy, culture, politics, and social problems," he says. "I try to provide a broad historical perspective of my country. In the second class, my goal is to share with students the larger picture surrounding transnational problems like the trafficking of illicit goods and services. I want to make the students think in continental terms or global terms in order to understand the specific problem."
He was selected from a pool of candidates by Dennis Plane, professor of politics and chair of the Politics Department, who created the position after serving in a similar Fulbright role in Mexico City in 2019. 
"In 2021, I saw the call for applications and decided to apply," says Lozano-Vazquez. "One of my choices was Juniata College and I liked the thought of experiencing Pennsylvania, a different climate, and another culture."
A research professor in the field of International Relations at the Universidad del Mar, Campus Huatulco, in the state of Oaxaca, Mexico, Lozano-Vazquez earned his master's and Ph.D. degrees in International Studies and Comparative Politics at the University of Miami in Florida. Hailing from a region where the temperatures rarely dip below 50 degrees and having studied in a similar climate in the U.S., he looked forward to the opportunity to try out some cooler temperatures and snow. 
"I've been interested in the United States since 1998 when I focused my dissertation project for my bachelor's degree on the U.S.," when I studied International Relation at the National Autonomous University of Mexico (UNAM-Acatlán), he says. "The United States is familiar to me. It's a country I like and respect. I believe we have some things to learn from this country in terms of democracy and political participation. It's nice to have another experience beyond my Ph.D. experience."
Lozano-Vazquez's semester at Juniata is sponsored through Fulbright COMEXUS (Comision México Estados Unidos para el Intercambio Educativo y Cultural/United States Mexico Commission for Educational and Cultural Exchange).
The Fulbright-Garcia Robles Mexico Studies Chair is named for Mexican diplomat Alfonso Garcia Robles, who won the Nobel Peace Prize in 1982.
Contact April Feagley at feaglea@juniata.edu or (814) 641-3131 for more information.