Bailey Oratorical Winner O'Reilly Declares 2021 'Year of the Therapist'
(Posted March 2, 2022)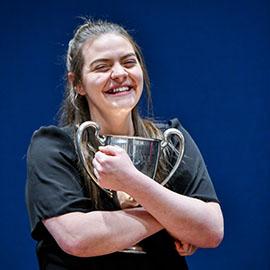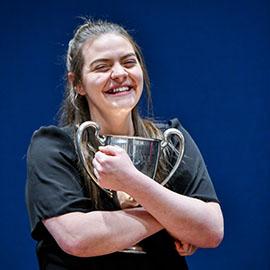 HUNTINGDON, Pa.—Megan O'Reilly, a senior from Bedford, United Kingdom, who is studying environmental science, declared 2021 "the year of the therapist" as she delivered her first-place winning speech at Juniata College's 112th Bailey Oratorical competition March 1.
Seven finalists were challenged to consider Time Magazine's longstanding "Person of the Year" feature and respond to the prompt, "Who would you have chosen for the person of the year in 2021 and why?"
"Have you ever looked at yourself in the mirror and thought, 'yeah, I could really use a therapist?'" O'Reilly asked. "Well, after a grueling two years in a pandemic, many of us need therapy more than ever. According to Mental Health America, in 2021, anxiety disorders were the highest reported mental health issue."
The annual event is Juniata's oldest ongoing tradition of academic excellence, having been established in 1910 and is designed to celebrate student voices and their power to bring about change.
"Tonight, we as a community will listen, and become stronger as a fellowship. Settle in as seven Juniatians take on the world," said Donna Weimer, the Thornbury Professor of Communication and chair of the Communication and Theatre Arts Department, as she welcomed those in attendance in person and online. "I would like to salute the 25 students who participated in the preliminary round and argued that the person, idea or group should be Person of the Year. They challenged us on issues of accessibility, mental health and COVID-19 vaccine delivery technology. We ran the gamut."
Judges Corey Lacey '14, Chris Ortiz and Jenny Wang '12 critiqued the six- to eight-minute speeches for persuasiveness, intent, clarity of message, reasoning, organization and evidentiary content.
O'Reilly centered her speech on her personal experience with an anxiety diagnosis and the efficacy of treatment.
"My doctor recommended I attend therapy," O'Reilly said. "I laughed, thanked him for his time, and left. Over the next six months, my mental health declined significantly. I couldn't perform the most basic tasks. My motivation and excitement to do anything slowly vanished. It got so bad I couldn't even do hobbies I actually enjoyed."
She decided to follow her doctor's advice.
"My life changed when I met one of the millions of unsung heroes of 2021, my therapist, Suzanne. To me, 2021 was the year of the therapist," O'Reilly said. "I'm thankful to have this opportunity to thank those therapists who worked tirelessly behind closed doors and to highlight their importance on an individual, community and global level."
O'Reilly's compelling speech earned her the $1,000 grand prize and the honor of having her name inscribed on the historic Bailey Oratorical loving cup.
In second place, winning the $500 award, was Ishiyihmie Burrell, a senior from Cambria Heights, N.Y., who is studying psychology and human communication. In third place, winning the $300 award was Alexa Cinque, a junior from Orangeburg, N.Y., who is studying politics and psychology. Cinque also won the People's Choice Award, a text-to-vote poll where audience members choose their favorite speech.
Other contestants included Elizabeth Bailey, a junior from Bowie, Md., studying wildlife conservation; Kayla Blackstock, a junior from Brookhaven, Pa., studying international politics; Emily Kaltenbaugh, a junior from Jefferson, Md., studying multimedia communication with production; and Kyle Louder, a junior from Mifflintown, Pa., who is studying museum education.
The original Bailey Oratorical Award was established in 1910 by Letitia Fisher Bailey and the Honorable Thomas F. Bailey, who served as president judge of Huntingdon County from 1916 to 1936. The contest is named in honor of John M. Bailey, the father of Thomas Bailey, and a former Huntingdon County president judge.
The oratorical contest has a long tradition at Juniata College, a competition in which students from all areas of study can vie for the monetary prize. The original prizes for the contest were $15 and $25. An endowment created by Judge Bailey's son-in-law, Colonel Sedgley Thornbury, provides the contest's prize money. The winners' names are permanently inscribed on an antique cup presented to the college by Colonel Thornbury's son, Thomas Bailey Thornbury.
Contact April Feagley at feaglea@juniata.edu or (814) 641-3131 for more information.