Juniata Professor Creates Science Buzz with Graphic Novel
(Posted March 10, 2022)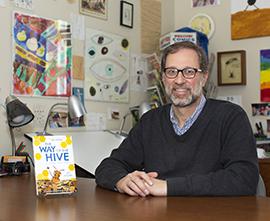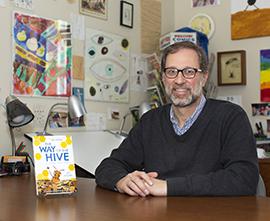 HUNTINGDON, Pa.—Cross-pollinating art and biology, "The Way of the Hive," written and illustrated by Jay Hosler, David K. Goodman '74 Professor of Biology and chair of the Biology Department at Juniata College, has been named as one of the Best Middle-Grade Nature Books of 2021 by Kirkus Reviews.
Originally published as "Clan Apis," a series of five comic books in the late 1990s, Hosler's work was published as a collection in 2000 with a number of printings before finding a home with Harper Collins under its current title. 
"It's a coming-of-age story about a little honeybee who wrestles with a fear of change and fear of death, which are sort of a human thing to relate to," Hosler says. "All of it is told through the lens of a honeybee's life. I wanted to tell a human story but within the believable context of the honeybee's natural history."
Kirkus Reviews calls the tale of three worker bees, Nyuki (Swahili for bee), Dvorah (Hebrew for bee) and Melissa (Greek for bee), sublime, saying, "This graphic novel swarms with facts, all conveyed with smooth storytelling." The reviewer highly recommends the book for graphic novel fans, lovers of non-fiction, budding ecologists and "readers looking for their next great obsession."
"Honeybees have very different lives than ours. They're different, yet similar," says Hosler. "They are a big family, with similar struggles as to living and surviving. I get to tell a human story and expose people to a wondrous world they might not otherwise learn about."
Hosler's interests in art and science reach back into his childhood when his love of paleontology was frustrated by a lack of access to good pictures of dinosaurs. 
"These days, you can go into (a bookstore) and find gloriously illustrated books about dinosaurs. When I was growing up, it was rarer," Hosler says. "I've always drawn, so if I wanted to imagine a battle between triceratops and tyrannosaurus rex, I had to do it myself."
From there, Hosler began to expand upon his ability to tell visual stories by drawing comics featuring his favorite characters. 
"In college, I started doing cartoons for the college newspaper and kept doing it through grad school," he says. "Writing every day became something I did. It was great practice learning how to write for a single-panel cartoon or a four-panel sequence."
It was reading "The Biology of the Honey Bee" by Mark Winston as a graduate student that first gave Hosler the idea of a longer-form comic. 
"When I read the book, I thought, 'Someone should do a comic. Maybe I should do it.' That was the birth of the original story," says Hosler. "I applied things I learned from doing shorter strips into creating a longer story. I was learning on the job."
He began to publish comic books, using the money earned from one to cover the printing costs for the next. 
"Having those external deadlines kept me on task and when each one was done, I felt good about the work," he says. "It was a way I could combine my three interests, science, writing and art, and felt like I was contributing something to comics."
Hosler also authored "Evolution: The Story of Life on Earth," which was illustrated by two friends, and wrote and illustrated "The Last of the Sandwalkers," "The Sandwalk Adventures" and "Optical Allusions." His next graphic novel will be released later this year and shares the tale of a neuroscientist who wanted to be an artist as a child, ultimately figured out how to do both despite discouragement and went on to win a Nobel Prize. 
"A children's librarian once told me that good stories have both a mirror and a window," says Hosler. "They reflect back something the reader is familiar with and give readers a glimpse into an unfamiliar world."
"The Way of the Hive" has been used in classrooms to encourage students to read in a format that is different than reading prose. 
"I grew up reading comics and that led to other reading," Hosler says. "We are organisms who have evolved and a lot of our success is based on our five senses, including vision. That is a powerful source of information from the environment and a powerful way to communicate." 
Contact April Feagley at feaglea@juniata.edu or (814) 641-3131 for more information.