Combining Physics and 'Phun:' An Exciting Tradition Returns at Juniata
(Posted April 4, 2022)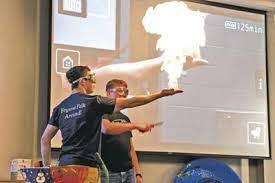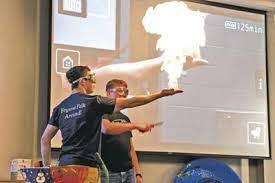 HUNTINGDON, Pa. – What makes a bubble burst into flames? What makes a pickle glow? The answer to those questions and many more will be revealed at Physics Phun Night at 7 p.m. Thursday, April 7, 2022, in Alumni Hall, Brumball Academic Center, Juniata College.
Sponsored and presented by Juniata College's Chapter of the Society of Physics Students, this free event is "phun" for all ages and combines entertainment and education.
"Physics is 'phun' because we are fun! We can demonstrate complex topics in an interesting and exciting way, using fire, freezing, electricity, and air," said Elyzabeth Graham '22, president of both the Society of Physics Students and Women in Physics at Juniata. "We also make it 'phun' by making physics accessible for all audiences, so that everyone can leave with an understanding of physics."
This will mark the 22nd Physics Phun Night and a return of a beloved tradition for the first time since 2019.
"This has become a much-anticipated Juniata College and Huntingdon Borough event, said Jim Borgardt, William W. Woolford Professor of Physics at the College. "This event aims to inspire a sense of wonder in everyone, especially kids, with an evening of visually spectacular and engaging demonstrations."
Demonstrations will include students igniting flaming balls of methane gas; using liquid nitrogen to show the effects of extreme cold on common objects; and how someone can lay on a literal bed of nails without any problem!
"I love physics because I like understanding the way the world works," said Graham. "I love teaching physics to others."
For those in attendance who are vaccinated against COVID-19, this event is mask optional.
Contact April Feagley at feaglea@juniata.edu or (814) 641-3131 for more information.