Juniata College Receives Federal Grant Funding for JCEL Project
(Posted April 5, 2022)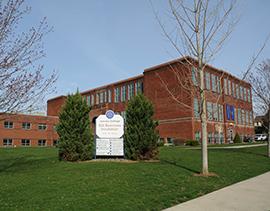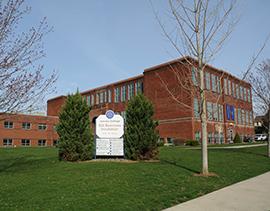 HUNTINGDON, Pa. — A $1.16 million federal grant has been awarded to Juniata College, Huntingdon, by the U.S. Economic Development Administration (EDA), for an extensive renovation project within Juniata's Center for Entrepreneurial Leadership (JCEL).
"We are extremely grateful for the support that Senator Casey and Representative Joyce continue to provide to this College and our broader Huntingdon community," said Juniata College President James A. Troha. "This investment is an important investment in our students but it is also a meaningful contribution to the economic development of Huntingdon County. We feel very blessed to be able to put these dollars to work."
JCEL is housed within the Bob and Eileen Sill Business Center (SBC), which was founded in 2004 as an incubator to help and grow student entrepreneurs. The grant, matched by $290,000 in philanthropic investment, will fund the interior renovation of the 8,630 square feet third floor within the original 1914 structure, a project with an estimated cost of $1.45 million.
"As our economy continues to recover from the pandemic, it is more important than ever to invest in our local businesses of the future," said U.S. Senator Bob Casey (D-PA). "This grant will provide essential funding to Juniata College's Center for Entrepreneurial Leadership, strengthening the local economy in the short term and equipping young entrepreneurs with the resources they need to grow their businesses in the future. By investing in our young professionals, we can put Pennsylvania and the Nation on the road to economic recovery."
This project will mark the completion of the renovation of the entire facility, providing new office space for several local businesses in Huntingdon, Pa., with potential new occupants having the capacity to serve the health and wellness of the local community. It is estimated this investment will help create eight jobs, save 17 jobs, and leverage $145,000 in private investment.
"Tackling the challenges that our nation will face in the years ahead will require bold leadership and creativity," said U.S. Rep. John Joyce (R-PA). "I am proud to see the great work being done by Juniata College and look forward to the great work that will be done at Juniata's Center for Entrepreneurial Leadership."
JCEL has contributed to the success of many innovative and vital businesses currently or formerly inhabiting the space, including Contamination Source Identification (CSI), Kdan Mobile, NURSEry Rhymes, and AIONX.
Strategically, JCEL's focus on supporting local economic development focuses on clusters of industries categorized as "growth," "emerging," or "maturing" by the Southern Alleghenies Planning and Development Commission. The expansion of the business facility within SBI will provide early-stage, additional, and "right-sized" space to satisfy both existing and projected entrepreneurial demand and enhance opportunities for entrepreneurial growth in targeted industrial sectors identified as emerging economic opportunities.
The grant is funded through the EDA's Fiscal Year 2021 American Rescue Plan Act, which enables EDA to provide larger, more transformational investments across the nation while utilizing its greatest strengths, including flexible funding to support community-led economic development.
Troha expressed his gratitude for the support of U.S. Senator Bob Casey, U.S. Rep. John Joyce; Brandon Carson, Director of Planning and Community Development, Southern Alleghenies Planning and Development Commission; Zach Lee, Regional Planner, Southern Alleghenies Planning and Development Commission; Carl Glaeser '77, a member of Juniata's board of trustees; Diane Glarrow, Senior Project Manager, LR Kimball and Associates; John McAllister, Founding and Managing Partner, and Marianne Jordan, Managing Director of Grants Services and Foundation Practice Leader, of McAllister & Quinn, a premier federal grant consulting and government relations firm; James Watt, Juniata's Vice President for Advancement; and Regina Lamendella, associate professor of biology at Juniata College and co-owner of Contamination Source Identification.   
Contact April Feagley at feaglea@juniata.edu or (814) 641-3131 for more information.