Juniata College Receives Gift to Support Environmental Research Station
(Posted April 11, 2022)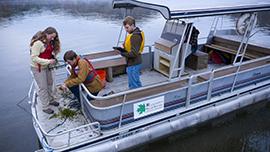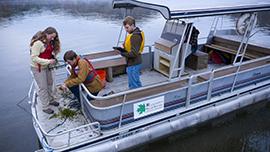 HUNTINGDON, PA - Juniata College has received an anonymous gift in excess of $5 million, which further strengthens Juniata College's commitment to the environment and sustainability. The gift supports environmental research and infrastructure needs associated with the Raystown Field Station as well as additional off-campus environmental resources, and will also strengthen Juniata's environmental corridor.
"This transformative gift is both a dual investment in supporting our commitment to environmental sustainability and fostering our ability to be a leader in environmental science, innovation, and instruction," said Juniata College President James A. Troha. "The donor who provided this gift would regularly remark about the importance of sustaining our natural resources and studying the world around us. We are so grateful to have friends and donors within the Juniata community that care so deeply about these issues."
The Raystown Field Station was developed with the collaboration of the College and the U.S. Army Corps of Engineers in the mid-1970s to establish environmental research opportunities for Juniata students, as well as provide College students and local residents with outdoor recreation opportunities. The Field Station is the host for the College's study away program for students committed to depth of study in environmental science and biology. The Field Station operates a bird banding center along with a water quality analysis lab. It is also involved in sponsoring many Juniata College student and alumni programs, along with partnering with local K-12 schools on developing curricula around lake ecology, wetlands ecology and forest ecology.
"This gift represents a tremendous opportunity to advance Juniata College by both sustaining and expanding the opportunities not just at the Raystown Field Station, but at other campus field properties as well. Our unique approach to residential semesters at the station has been highly successful and is now considered a national model for Field Stations," said Dr. Chuck Yohn, Executive Director of the Raystown Field Station and Instructor of Environmental Science at Juniata College. "Whether it is studying water quality, fisheries management, or monitoring threatened species populations, it is no surprise that the hands-on lakeside classroom has become a keystone in recruiting students and I look forward to leveraging these opportunities to further strengthen Juniata College. I am deeply grateful to the donor because he wanted his gift to simply be an affirmation of the transformative experiences that Juniata provides for students."
The College will invest a portion of these dollars to an endowment that will support, in perpetuity, the operation of the Raystown Field Station, ensuring a quality academic program with state-of-the-art facilities staffed by talented professionals. Access for students will also be enhanced via student scholarships.
"This gift is a commitment to not only the environment but to current and future generations of Juniata students who will study and preserve it," said Jim Watt, Vice President of Advancement. "The donor spent time enjoying Huntingdon County's beautiful outdoors and wanted to ensure the College did what it could to continue supporting environmental research and education." About Juniata College
Founded in 1876, Juniata is an independent, co-educational college of liberal arts and sciences that draws students from more than 35 U.S. states and dozens of nations in Africa, Asia, Europe, Oceania, and South America. Juniata's exceptional programs in science and education; innovative business and international studies offerings; signature programs in peace studies, museum studies, and integrated media arts; and experience-driven humanities offerings pair with the Juniata College Curriculum's focus on local and global engagement. Students use the College's Program of Emphasis (POE) system to work with two faculty advisers to pursue varied interests and talents.
Contact April Feagley at feaglea@juniata.edu or (814) 641-3131 for more information.