Juniata Mock Trial Ranked in Top 4 Percent in the Nation
(Posted April 18, 2022)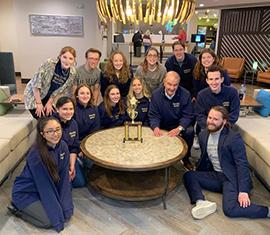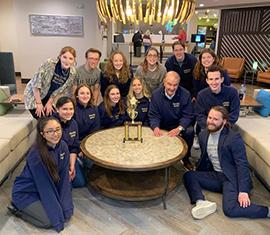 HUNTINGDON— The case is closed on another extremely successful season for Juniata College's Mock Trial team, one that saw them bring home a trophy from the National Championship Tournament finishing in the top 4 percent of the over 700 teams competing in the American Mock Trial Association (AMTA) competition this year. 
Led by their coach, Attorney David Andrews '74, this year marked the team's first year competing in the National Championship, having advanced to the National Playoffs each of the four years the team has been in existence.
"I am proud of our team members, who once again were able to take home a trophy by winning their final trial against Furman University 3-0," said Andrews, noting that the tournament was extremely intense and ultimately won by Harvard University. "Our team was composed of mostly first-years and sophomores, with one junior and no seniors."
Attorney Andrews also explained that Juniata College is one of the smallest schools to compete in the National Championship, with 1400 students, and there are no divisions in Mock Trial, with many schools competing with more than 60,000 students
The Legal Eagles concluded the year by being successful in their Regional Tournament, the Opening Round Championship Series of the national playoffs, and finally, the National Championship Tournament.
"Juniata College finished ahead of many of the top academic institutions in the country," said team captain Dan Cummins. "We worked very hard to earn this Trophy and have been practicing as a Team since mid-August."
Team members who participated in the National Championship were captain Dan Cummins '24 of Clarks Summit, Pa.; captain Sarah Cook '24 of State College, Pa.; Francesca Satiro '25 of Ronks, Pa.; Emerson Strawser '25 of Harrisburg, Pa.; Nattie Daversa '23 of Altoona, Pa.; Alex Sanna '24 of Hummelstown, Pa.; Quintin Ioime '24 of Hamden, Ct.; Brenna Haggerty '25 of Boiling Springs, Pa.; Kyle Boyer '24 of Lewistown, Pa.; and Olivia Day '24 of Duncansville, Pa. Alternates for the National Championship are Shea Langille '25 of Stewartstown, Pa.; Brendan Andrews '25 of Altoona, Pa.; and Vanessa Alvarez '25 of Ramsey, NJ.
Contact April Feagley at feaglea@juniata.edu or (814) 641-3131 for more information.