Juniata Student Awarded Scholarship From St. Andrews Society of Philadelphia
(Posted May 5, 2022)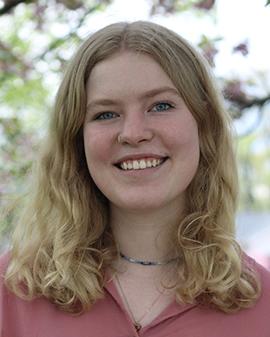 Photo by Olivia Marie '23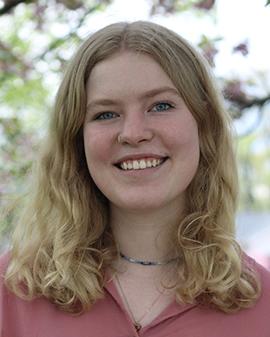 Photo by Olivia Marie '23
HUNTINGDON, Pa. – Isabel Kruse, a junior from Huntingdon, Pa., who studies international politics with a secondary emphasis in data science at Juniata College, has been awarded the Andrew Mutch Scholarship from the St. Andrews Society of Philadelphia. The award will enable her to attend the University of Ediburgh in the 2022-2023 academic year.
"I've always planned to study abroad, primarily because of the personal growth aspect," said Kruse. "Being abroad for a full year with certainly push me outside of my comfort zone, and I hope it will ultimately help me grow and discover new confidence and self-reliance."
Kruse is the Juniata Associate of Juniata's Center for International Education (CIE) and knew she wanted to study abroad during her college career. She learned about the Andrew Mutch Scholarship through the College's study abroad portal, Terradotta.
Only a handful of students from 30 participating colleges and universities in Pennsylvania, each of whom are invited to submit applications, are selected to attend one of the four participating universities in Scotland—each known as "Scotland's Ivies"—for one year. Kruse is the 25th Juniata College student to receive this prestigious award since Juniata's affiliation with the program in 1979. To be considered for the scholarship, candidates complete an application, write an essay, and interview for one of the four scholarships.
The application process for the Mutch Scholarship is quite long and detailed. Kruse received encouragement, recommendations, and mentoring from faculty and staff at Juniata, who worked alongside her every step of the way.
"Caitlin Murphy (former Dean of International Education) gave me the push to apply, and she wrote one of my recommendation letters for the process. Her encouragement helped build my confidence throughout the entire process," Kruse said. "Emil Nagengast (professor of politics and international studies) read and reviewed my personal statement and helped me edit the first few drafts of it. He also wrote one of my recommendation letters for the process."
As she moved into the interview process, first on campus and later in Philadelphia, Pa., her faculty mentors continued to help her prepare.
"Alison Fletcher (W. Newton & Hazel A. Long Professor of History and Chair of the History Department) and Jack Barlow (Charles A. Dana Professor of Politics) were extremely helpful for next steps. They have been working with Juniata College St. Andrews applicants for many years now, so they had a lot of great advice to share," she said. "Alison worked with me to do multiple revisions of my personal statement, and Professor Barlow helped me know what to expect when I arrived in Philadelphia. Talking to both Professor Fletcher and Professor Barlow helped calm my nerves and prepared me for what to expect from the process."
In addition to her employment in the CIE, Kruse serves as an English for Academic Purposes (EAP) tutor, and a politics student assistant focused on voting registration efforts. She was previously a member of the Juniata College Field Hockey team and a member of the former Citizens Climate Lobby Club.
Contact April Feagley at feaglea@juniata.edu or (814) 641-3131 for more information.