Juniata Honors Faculty With Distinguished Teaching Awards
(Posted May 18, 2022)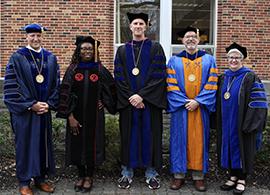 Photo by Olivia Marie '23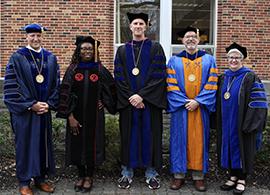 Photo by Olivia Marie '23
HUNTINGDON, Pa. -- Four Juniata College faculty members were honored with distinguished teaching and service awards during the annual Awards Convocation held Tuesday. 
Honored for their work were James Tuten, Chuck A. and Shirley R. Knox Professor of History; Territa Poole, associate professor of psychology; James Borgardt, William W. Woolford Professor of Physics and chair of the Physics and Engineering Physics department; and Vince Buonaccorsi, professor of biology. 
Borgardt was honored with the 33rd annual Beachley Award for Distinguished Academic Service, and Buonaccorsi was named the 55th recipient of the Beachley Award for Distinguished Teaching. Poole received the Henry '57 and Joan Gibbel Award for Distinguished Teaching (for faculty members with fewer than six years of service). Tuten was awarded the inaugural Eagle Advising Award. 
Nominations for the awards are received from students, faculty, administrative personnel, alumni, and trustees. The college president, the provost, the student government president, and the three most recent recipients of the award make the final selections.
The last three Distinguished Teaching Award recipients were Xinli Wang, professor and chair of Philosophy (2021), Russell Shelley, chair of the Department of Music and the Elma Stine Heckler Professor of Music (2020); and James Tuten, professor of history (2019). The 2021 recipient of the Beachley Award for Academic Service was Deborah Roney, assistant professor of English and director of Language in Motion; and the 2021 recipient of the Gibbel Award for Distinguished Performance was Katherine Johanesen, assistant professor of geology. The first academic service award was presented in 1989 to the late Mary Ruth Linton, professor emerita of music. 
Buonaccorsi came to Juniata College in 2001 after completing post-doctoral research at the Southwest Fisheries Science Center, part of the National Marine Fisheries Service in San Diego, Calif. He earned his bachelor's degree in biology from the University of Notre Dame in 1993 and went on to earn a doctorate in marine science from the College of William and Mary in Williamsburg, Va., in 1998. 
He is recognized by his students and his peers for having transformed undergraduate education in genomics and bioinformatics. Buonaccorsi's commitment to interdisciplinary perspectives leads to frequent partnerships with faculty in the humanities. He has worked to secure grants to fund countless summer research opportunities. His students describe him as passionate, caring, kind, and challenging, all at the same time. 
Borgardt came to Juniata in 1998 from the University of Arizona, where he was a lecturer in physics. He earned his Ph.D. and master's degree in physics at the University of Arizona and his bachelor's degree in physics and mathematics from the University of California at Santa Barbara. Borgardt served as a post-doctoral associate at the University of Arizona and as a medical college admissions test physics instructor. 
He was selected to receive this award in honor of his ongoing commitment to service to the college, his department, to the faculty, Juniata students, and the Huntingdon community. Borgardt has served on Juniata's Health Professions Committee for 20 years, serves on the advisory board of The Baker Institute for Peace and Conflict Studies, and is the adviser to the College's nationally-recognized Society of Physics Students chapter. In addition to overseeing the organization of Juniata's annual Physics Phun Night, which provides students with the opportunity to share their love of science with the community, he created a resource for students experiencing food insecurity. 
Poole joined the Juniata faculty in 2017 from the University of Alabama, where she was an instructor within the education department. She earned her Ph.D. in educational psychology at the University of Alabama. 
Her open-door policy was noted by faculty and students alike throughout the nomination process. Poole is known for her commitment to mentoring, advising, and counseling students and her energetic, engaging, and student-centered approach to education. She is willing to spend time listening to her students' goals, dreams, and struggles. Poole stimulated faculty discussion on teaching methods and what constitutes inclusive excellence.
Tuten came to Juniata in 1998 after completing his Ph.D. at Emory University and his master's degree from Wake Forest University. He earned his bachelor's degree in history and fine arts at the College of Charleston. Tuten's research on Atlantic Coast rice culture culminated in the book Lowcountry Time and Tide: The Fall of the Rice Kingdom. 
By hosting students at "Swamptopia," a plot of land where he grows heirloom vegetables, and through his energy and enthusiasm, Tuten is an active presence in the lives of Juniata students. He serves as the campus' Fulbright adviser and is a constant source of coaching and support for students throughout the application and interview process. Tuten continues to advise alumni and provides counsel on professional pursuits. 
These annual awards are an opportunity to recognize and appreciate the collective work of faculty and to honor the ways in which they advance the mission of the liberal arts. Faculty members are integral in providing an engaging personalized educational experience, empowering students to develop the skills, knowledge, and values that lead to a fulfilling life of service and ethical leadership in the global community. 
Contact April Feagley at feaglea@juniata.edu or (814) 641-3131 for more information.