Researcher Encourages Class of 2022 to Learn From the Journey Ahead
(Posted May 18, 2022)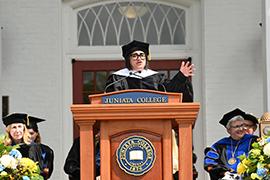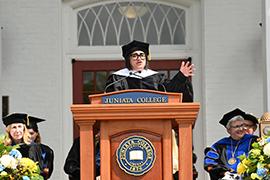 HUNTINGDON, Pa. -- The members of the Juniata College Class of 2022, in a celebration of their passion and enthusiasm for learning, gathered on the campus quad for the final time as students, for the 144th commencement ceremony on May 14.
A total of 315 graduates received their degrees, with 17 students completing master's degrees, 72 earning bachelor of arts degrees, and 226 presented with their bachelor of science degrees. 
"I have a quote in my office, which resonates particularly at times like these. It reads, 'Great character, like massive roots, grow deep when water is sparse and winds are strong,'" said Juniata College President Dr. James A. Troha. " COVID tested us. It tested all of us. But as we gather this morning, on this campus we love so very much. I am just so darn proud of our faculty, our staff, our alumni, our coaches, our trustees, but particularly you students because without your trust, patience, and support, we would not be here today."
Citing the global pandemic, generational social justice movement, and the current war in Ukraine, Troha shared that there are lessons to be learned from difficulty. 
"We've all been tested in unique and uncommon ways we cannot and should not forget. These past several years have taught me that life can be just plain messy and that lots of unexpected twists and turns are to be expected," he said. "Our response to these moments will define us and allow us continued growth and maturation."
Troha encouraged all in attendance to view challenges as opportunities for growth rather than obstacles.
"Use these opportunities to learn more, to read more, and to understand more," said Troha. "Without question, in this bifurcated world we seem to live in today, we need to demonstrate greater compassion and respect simple decency and kindness for those who may think differently than you."
Class of 2022 president Talia Bertrando addressed her fellow graduates, sharing deep appreciation for all of the members of the Juniata community whose support brought them to this day. 
An honorary doctor of humane letters degree was bestowed upon medical researcher and 2001 graduate Dr. Parisha Pradip Shah, who delivered the commencement address.
"Parisha is one of those students who reminds us of why we chose a career as a teacher. Her love of learning, curiosity, and care for the common good is exuberant and contagious," said Dr. Jill Keeney, Charles A. Dana Professor of Biology. "She made every class discussion and her laboratory conversation better for her part in them."
Shah's commitment to communication was intrinsic to her study of biology, and the two remain intertwined in her career as a senior research investigator with the Perelman School of Medicine at the University of Pennsylvania. 
"When I graduated, Donna Weimer – professor of communication, and extraordinary human being – gave her senior students a little parting gift. I still have mine – there's a note, full of her wit and wisdom, and it came with a copy of the poem 'Ithaka' by Constantine Cavafy," Shah said. "The poem is about journeys, inspired by the Odyssey – the epic Greek tale of Odysseus's 20-year journey home to Ithaka. In the poem, Cavafy expresses hope that the reader has a long, unhurried journey. He says that when you reach your destination, your Ithaka, if it isn't as expected, that's okay, because of all you gained on the journey."
In that moment, at 22, Shah recalls believing she understood the poem. Now, she realizes her comprehension has deepened.
"It's this evolution, this journey of knowledge I'd like to share with you," she said. "And for me, my journey started off with an enormous failure."
During the spring semester of her senior year, Shah received a rejection letter from the only graduate program in which she had been given an interview. Daunted at the prospect of an uncertain future, Shah found encouragement in the faculty members who supported her. 
"I couldn't appreciate any of these moments at the time as much as I do now. All I could see was a dead end, but my mentors saw a blocked path, a detour, or a new route," said Shah. "With their guidance, I applied to several research positions and was accepted in a competitive research program at the National Institutes of Health."
The words of Shah's Juniata mentors continued to buoy her through her graduate and post-graduate studies and research.
"Jill Keeney says that faculty members take a leap of faith on their students, sending them off into the world, believing they will succeed," Shah said. "If today is a celebration of your academic achievement, then it is also a celebration of their belief in you, in their success as the arbiters of knowledge, in their capacity as the soul of an academic institution, as people who have challenged you and instilled you with the skills necessary for your journey."
Contact April Feagley at feaglea@juniata.edu or (814) 641-3131 for more information.