Juniata Student Receives Fulbright to Teach in Uzbekistan
(Posted May 31, 2022)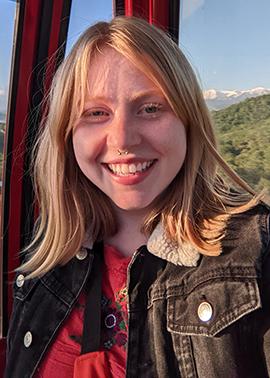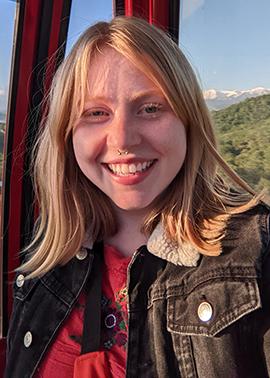 HUNTINGDON, Pa. ­— Julia McIntosh, a Juniata College senior from Mechanicsburg, Pa., whose dual Programs of Emphasis (POE) are Russian and International Studies with a secondary emphasis in Peace and Conflict Studies has received a Fulbright English Teaching Award to live and work in Uzbekistan.
McIntosh will be an English teacher at Bukhara State University and will be responsible for conducting after-school culture clubs within her host community.
"International travel and study have been invaluable to my life," said McIntosh. "These experiences have encouraged me to view the United States and foreign countries with a fresh perspective. I also believe I have become more self-sufficient and confident in problem-solving situations, which when you travel, is every day!"
During her time at Juniata, McIntosh has spent semesters studying abroad in Brno, Czech Republic, and in Bishkek, Kyrgyzstan. In the Czech Republic, she worked as an intern for the non-governmental organization (NGO), NESEHNUTÍ within their environmental program designed for activists in Russian-speaking countries. In Kyrgyzstan, she studied Russian and lived with a Russian-Kyrgyz host family.
"The Fulbright program started in the aftermath of World War II, it grew during the Cold War, and it continues on today, expanding the boundaries of research, knowledge, and sharing English as a foreign language in partner nations," said Dr. James Tuten, Charles R. and Shirley A Knox Professor of History and Juniata's Fulbright Adviser. "At its heart, though, this prestigious honor is about people connecting and creating bonds across international borders and cultures. Our Fulbright scholars grew through their experiences and with today's technologies, they maintain the friendships they build for decades."
McIntosh first learned about the Fulbright from her Russian professors at Juniata, both of whom had received Fulbright awards to teach Russian in the United States. She was encouraged to apply by Deborah Roney, assistant professor of English.
"Dr. Roney was by far the most influential staff member during my application process. The two of us passed nearly a dozen essay versions back and forth," McIntosh said, adding that there was a six-hour time difference between Juniata and the Czech Republic, where she was studying abroad.
She also credited former Dean of International Education Caitlin Murphy; Dr. Emil Nagengast, professor of politics and international studies; Tuten; and Dr. Matthew Powell, professor of geology and director of institutional research, for their support and aid throughout the application process.
The Fulbright English Teaching Assistant (ETA) programs place individuals in classrooms abroad to provide assistance to the local English teachers. ETAs help teach English language while serving as cultural ambassadors for the U.S. The age and academic level of the students vary by country, ranging from kindergarten to university level. Applicants for English Teaching Assistant Programs can apply to only one country.
Contact April Feagley at feaglea@juniata.edu or (814) 641-3131 for more information.