Eight Juniata Students Receive Gilman Scholarships to Study Abroad
(Posted June 2, 2022)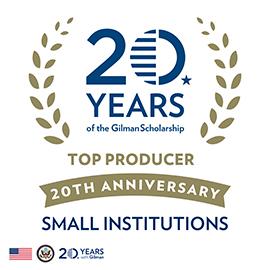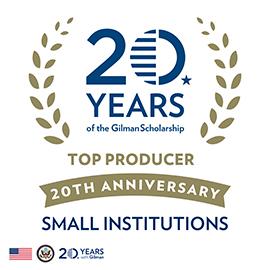 HUNTINGDON, Pa. – Eight Juniata College students have received Gilman Scholarships to study abroad during the upcoming school year.
Juniata College, a private four-year liberal arts college committed to equipping students to become citizens of the world in an increasingly global and diverse community, is recognized by the U.S. Department of State's Bureau of Educational and Cultural Affairs for having produced the most Gilman recipients over the past 20 years in the Small Institution 20-year overall Top Producer category.
Ana Herrera-Moreno '24 of Waynesboro, Pa., and Alvin Fuentes '23 of Redwood, Calif., will study in France; Marilyn Ogof '24 of Lake Ariel, Pa., and Caoilinn Crotty '24 of San Diego, Calif., will study in New Zealand; Kaylin Bishop '23 of Morgan, Texas, will study in Sweden; Zoe Watson '24 of Felton, Pa., will study in Ireland; Jaq Salazar '23 of San Jose, Calif., will study in Mexico; and Hannah Dees '23 of Rebersburg, Pa., will study in the United Kingdom.
"My great-grandfather, who was an archaeologist, always told stories and shared the artifacts he found with me. He always pushed me to study beyond the states and this new adventure will expose me to new classes, new information, and new ideas, both political and historical," said Watson. "With the goal of becoming either an employee of the State Department or an international lawyer, studying abroad will start me on the correct path to either career choice."
The recipients of this prestigious scholarship, named for Benjamin Gilman, a Republican U.S. Representative from New York, are American undergraduate students attending 536 U.S. colleges and represent 49 U.S. states, the District of Columbia, and Puerto Rico. These Gilman Scholars will study or intern in 91 countries through April 2023.
"I'm looking forward to learning more about New Zealand's culture first-hand. I'm excited to observe and learn about their endemic species of birds and I hope to attend many cultural events specific to the Maori people," Ogof said. "Studying abroad is important to me because I want to broaden my horizons and knowledge."
Gilman Scholars receive up to $5,000 to apply toward their study abroad or internship program costs. Since the program's inception in 2001, more than 34,000 Gilman Scholars have studied or interned in more than 155 countries around the globe.
"Studying abroad is important to me for a variety of reasons, the first being my passion for environmental sustainability. The city of Växjö is known as the greenest city in Europe for its commitment to sustainability," said Bishop. "Another reason why studying abroad is important to me is because I come from a very small town with little diversity. I'm very passionate about creating accepting environments for people from different cultures and the only way I can do that effectively is to experience them for myself."
Juniata's Center for International Education actively recruits eligible students to make them aware of the Gilman Scholarship and similar opportunities. The College's community then sets to work, supporting students through the application process.
"The competition for the Gilman Scholarship is steep since thousands of students from around the U.S. apply," said Jamie Weaver, director of study abroad at Juniata College. "Our students have once again shown their dedication, creativity, and hard work as nearly every one of the Juniata students who applied was awarded."
Students are identified based on their eligibility for Pell Grants, which are federal grants for undergraduate students with financial needs. Eligible students complete an application form, and a personal statement, and develop a proposal for a follow-up service project.
"To develop these, our students rely on the support of their advisers, faculty, and CIE staff. We cannot thank these Juniata community members enough for all of their hard work and support," Weaver said. "Our students are nothing short of amazing. The CIE staff and I cannot wait to hear all about the high-impact international experiences that these students will have thanks to the Gilman Scholarship."
Contact April Feagley at feaglea@juniata.edu or (814) 641-3131 for more information.