Juniata Student Receives Fulbright to Conduct Research in Denmark
(Posted June 9, 2022)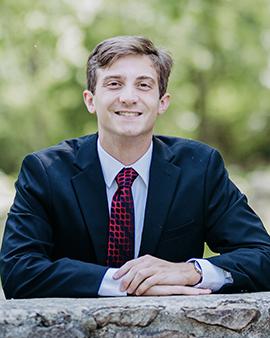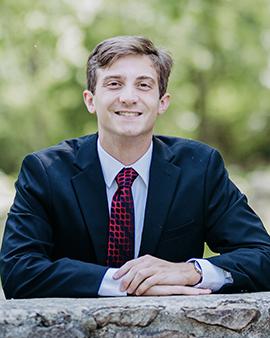 HUNTINGDON, Pa. ­— Thomas Cope, a recent graduate of Juniata College from Fogelsville, Pa., who earned his bachelor's degree in physics with a secondary emphasis in mathematics has received a Fulbright Award to conduct computational astrophysics research in Denmark.
Cope will work with Dr. Johan Samsing at the Niels Bohr Institute at the University of Copenhagen. His research will focus on modeling merging black holes in galactic centers.
"Embracing cultures other than one's own is extremely important to grow and develop in life. Moving to another country can be a unique and challenging experience, but can open new doors and pathways to travel," said Cope. "The world is a much smaller place and understanding someone else's viewpoint is the most important action for a more interconnected world."
Cope learned about the Fulbright during his first year at Juniata, when his cross country teammate, Andrew Meci '19, was awarded a Fulbright to conduct research in Paris, France.
"The Fulbright program started in the aftermath of World War II, it grew during the Cold War, and it continues on today, expanding the boundaries of research, knowledge, and sharing English as a foreign language in partner nations," said Dr. James Tuten, Charles R. and Shirley A. Knox Professor of History and Juniata's Fulbright Adviser. "At its heart, though, this prestigious honor is about people connecting and creating bonds across international borders and cultures. Our Fulbright scholars grew through their experiences and with today's technologies, they maintain the friendships they build for decades."
Cope credited many members of the Juniata campus community with supporting him throughout the application process.
"Most notably are Dr. Tuten, and my three letters of recommendation writers, Dr. (Matthew) Beaky, Dr. (Mark) Pearson, and Dr. (Kristin) Camenga," said Cope. "My parents and friends were also super supportive, reading through drafts and offering me advice."
The Fulbright Program is known worldwide as the flagship program for top students and scholars—studying, researching, and working with the best in their fields. In Denmark, the Fulbright Program is based upon a bi-national agreement from 1951 between Denmark and the U.S. Since its foundation, over 3,500 of the "best and the brightest" Danes and Americans have participated, working on mutual understanding and sparring with the world's elite within their fields.
Contact April Feagley at feaglea@juniata.edu or (814) 641-3131 for more information.