Honoring Achievements: Four Juniata Alumni Recognized With Awards
(Posted June 21, 2022)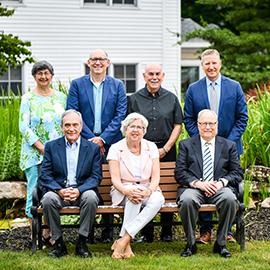 Nate Thompson '05 of 707 Photos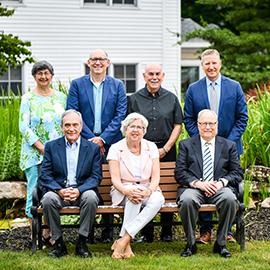 Nate Thompson '05 of 707 Photos
HUNTINGDON, Pa. — As Juniata College alumni returned to their alma mater to celebrate an event-filled 2022 Alumni Weekend, four distinguished alumni were recognized for their achievements and contributions with awards on June 11. 
Sarah Young Fisher '75 of Lancaster, Pa., earned the College's Alumni Achievement Award. Chelsea A. Wilson '13, from Gwynn Oak, Md., was awarded Juniata's Young Alumni Achievement Award. Dr. James R. Gaskell '60, of Athens, Ohio, received the William E. Swigart Alumni Humanitarian Award. Robert McDowell '67 of Huntingdon, Pa., was honored with the Harold B. Brumbaugh Alumni Service Award. 
Sarah Young Fisher received the College's Alumni Achievement Award, which honors those who have distinguished themselves over a period of years and have achieved a pinnacle position in their chosen profession. After graduating from Juniata, she attended The American College and completed her Master of Science degree in financial services. Sarah also received advanced training at the ABA National Trust School. She has reached the pinnacle of her career in wealth management, serving as President Emeritus of RKL Wealth Management, an investment advisory firm serving Central and Eastern Pennsylvania. 
Young Fisher's career includes 13 years at Fulton Bank, headquartered in Lancaster County, Pa., with 250 branches throughout the state. During her time at Fulton Bank, she held the positions of Senior Trust Officer and Vice President. She then served three years as a Trust Officer with the Hershey Trust Co., a 116-year-old corporation that is the minority owner of The Hershey Co., sole private owner of Hershey Entertainment and Resorts Co., and administrator of the 2,000 student Milton Hershey School. 
Prior to joining RKL Wealth Management in 2005, she was President of Fisher Advisers, Inc. In her work at RKL Wealth Management, as a sole proprietor, she manages individual portfolios and the investment of trusts, estates, charitable organizations, and corporations. Young Fisher works alongside her clients to establish objectives, allocate assets, and to develop estate and retirement plans. 
The author of four books relating to individual investment strategy, Young Fisher utilizes her vast wealth of knowledge to help others. Her publications are written in an easy-to-understand manner, communicating vital personal finance and investing advice. 
Service to her community is important to her. She serves as chair of the FUMC Endowment Committee and served on the Lancaster County Foundation Investment Committee, Hospice of Lancaster County Planned Giving Council, and Hospice of Lancaster County—Steering Committee Women's Giving Circle. Young Fisher is also an Internal Revenue Service Enrolled Agent.
Chelsea A. Wilson earned the College's Young Alumni Achievement Award, which honors those who have distinguished themselves in their chosen profession during the first 15 years since graduation from Juniata College.
Wilson serves as a diplomat with the U.S. Department of State and is currently stationed in Rio de Janeiro, Brazil. In this role, she is responsible for adjudicating and communicating visa decisions to immigrant applicants and non-immigrants, regularly reuniting families. Wilson is an expert in immigration regulations and visa classes. She serves as a liaison with law enforcement organizations to investigate allegations of potential fraud, address national security concerns, and mitigate public safety threats within the immigration system. Throughout the COVID-19 pandemic, Wilson led a team that assisted Brazilian citizens with legitimate travel to the United States. She developed and implemented an outreach system that reaches more than 100,000 Brazilians each week.
Prior to her work as a diplomat, Wilson spent several years working in the international education sphere. She taught English and served as a cultural ambassador in Madrid, Spain, and coordinated international programs in Chengdu, China, before returning to the U.S. to support study abroad students at Goucher College in Baltimore, MD. In 2017, Wilson was the recipient of the prestigious Charles B. Rangel International Affairs Graduate Fellowship with the U.S. Department of State. Through this program, she completed an internship at the U.S. Embassy in Hanoi, Vietnam. She served as press officer for Secretary of State Mike Pompeo, which resulted in the receipt of a Certificate of Appreciation. 
Wilson is the author and creator of "Hey, Ms. Traveler," a travel blog designed to teach women everything they need to know about working abroad. Through her writing and photography, she shares her love of travel and provides vital safety, financial, and career advice to women. She is passionate about empowering others to succeed and reach their goals. 
Dr. James R. Gaskell was presented with the William E. Swigart Alumni Humanitarian Award, which honors those who have improved the lives of others through personal sacrifice and have exercised significant leadership through vocation or avocation. Gaskell was presented with the award for his selfless service to his community and beyond through significant civic, military, and professional service. 
After graduating from Juniata, Dr. Gaskell earned his doctor of medicine at the University of Pittsburgh School of Medicine in 1964. He completed his internship and pediatric residency at the University of West Virginia. He also served in the United States Army as a Captain Flight Surgeon from 1965 to 1967.
In 1970, Dr. Gaskell began his career as a physician in Athens, Ohio, serving as the Athens City Schools Physician and Chief of Pediatrics at O'Bleness Memorial Hospital. Throughout more than five decades in pediatrics and private practice, he became a Fellow of the American Academy of Pediatrics and was appointed president of the Athens County Medical Society. He has cared for children and youth beyond the examining room, serving as team coach and physician, and cheering on his patients from the sidelines. Due to his care and compassion, he was honored as Ohio Community Pediatrician of the Year in 2005, Red Cross Hometown Hero in 2018, and Athens County Champion for Children in 2021. 
From 1996 to 2010, Dr. Gaskell mentored students and shared his expertise as Associate Professor of Clinical Pediatrics at Ohio University's Heritage College of Osteopathic Medicine. He has also provided wisdom and leadership while serving on numerous Boards, including Athens County Children's Services, Boy Scouts, American Red Cross, and Live Healthy Appalachia.
As Athens City-County Health Commissioner, a position to which he was appointed in 1999 and still holds, Dr. Gaskell displays his passion for educating the public. He encourages medical professionals to prescribe pain medication sparingly and appropriately, and for patients to use them responsibly. For his part in fighting the opioid epidemic, and for his work around other community health concerns, he has been recognized with the Foster Cornwall Award for Community Service, the Valerie Maeks Substance Abuse Prevention Award, the 317 Board Award for Initiating Project Dawn, and the Phillips Medal of Public Service. 
In response to the COVID-19 pandemic, Dr. Gaskell was instrumental in communicating accurate and critical information to residents of Athens County. He offered ongoing consultation with Ohio University regarding their policies. He created a sense of optimism and hope within his community, stressing the importance of being vaccinated, working remotely, and following social distancing guidelines as outlined by the Center for Disease Control and Prevention. 
Robert N. McDowell was presented with the Harold B. Brumbaugh Alumni Service Award, which honors those who have distinguished themselves above others as having given of their time to projects or functions of an elected or appointed position for the advancement of Juniata College. McDowell received this award in recognition of his selfless and unwavering service to his alma mater with contagious energy and loyalty. 
For many years, McDowell has been a connector for his classmates, conducting outreach and planning reunions for the Class of 1967. In the years leading up to their 50th reunion, he represented the class as a member of the President's Commission on 50th Reunion Giving. In the role of Legacy Gift Committee co-chair, he and a group of volunteers and staff helped the Class of 1967 to establish three endowed scholarships for Juniata students and to raise a record-setting gift of more than $4 million.
In addition to his leadership in fundraising as a campaign volunteer and member of the President's Development Council, McDowell has personally invested in the future of Juniata. He and his wife, Ruth Bartleson McDowell '68, have made a meaningful philanthropic impact on the College as Quinter Lifetime Benefactors.
McDowell has long served as an ambassador for Juniata College, representing his alma mater at presidential inaugurations in the Mid-Atlantic region. He has promoted the value of a Juniata education and expanded the student body through his recruitment efforts. While living in New Jersey, he attended numerous college fairs on behalf of Juniata.
McDowell has taken pride in forming lasting connections and serving as a mentor for students, faculty, staff, and senior administrators. He has shared his wisdom as a guest lecturer in many classes over the years, participated in departmental reviews, and served on hiring committees. Drawing on an extensive career in consulting, he served as Executive In Residence for the Accounting, Business, and Economics Department in October 2014.
Perhaps McDowell's greatest gift to Juniata has been his service on the Board of Trustees over the course of 21 years. As chair of the Education and Student Life Committee and the Governance Committee, he helped to mold the College and lay a strong foundation. He served as vice chair of the Board from 2006-2011 and chair from 2011-2016. During his tenure as chair, he led the board in the selection of Juniata College's 12th president, James A. Troha, Ph.D. McDowell now holds the title of Trustee Emeritus due to exemplary service on the Board.
Contact April Feagley at feaglea@juniata.edu or (814) 641-3131 for more information.