Juniata Marks 50th Anniversary of Title IX Enactment
(Posted June 23, 2022)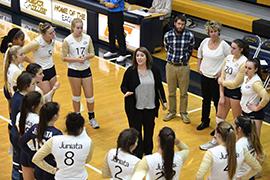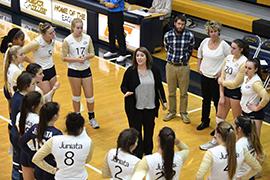 HUNTINGDON, Pa. — The enactment of Title IX on June 23, 1972, ushered in a new era for women's athletics at Juniata College and nationwide. Now, 50 years later, two generations of Juniatians have celebrated national championship teams, welcomed new programs, and taken part in long and successful athletic traditions.
"Title IX is a law that prohibits discrimination by sex in participation in the educational enterprise as it relates to athletics," said Vice President for Student Life and Dean of Students Matthew Damschroder, who is Juniata's Title IX Coordinator. "At that time, in 1972, support for and participation in women's athletics was substantially lower compared to boys' and men's athletics. By exclusion, girls and women were missing out on the benefits of athletics, which are substantial."
Through competition and physical training, student-athletes hone skills that will serve themselves and others throughout their lives, including leadership, communication, strategy, and problem-solving.
"For women, playing sports is especially impactful for building confidence and preparing for the future," said Head Women's Volleyball Coach Heather Pavlik '95, who was a student-athlete at Juniata and a member of a national championship volleyball team. "There are lessons learned between the lines, on the court, or on the field that aren't taught in other parts of life. This is an important space where growth occurs."
The importance of Title IX and the positive impact the legislation has had on the lives of student-athletes cannot be understated.
"The amount of benefit Title IX has had is hard to put into words. It shaped who I am and who I have become," Pavlik said. "It allowed me to learn balance as a student and an athlete, it gave me confidence going out into the world, it taught me how to deal with adversity."
She pointed out that circumstances rarely go exactly as planned in sports, and that the critical ability to shift gears, problem solve, and overcome is a skill that can apply to all areas of life.
"Generations of our students have been propelled from participation in our programs to exceptional outcomes," said Damschroder.
Juniata had a well-established tradition of supporting women's athletics, with the organization of the Women's Athletic Association in 1938 with the motto, "A sport for every girl, and a girl for every sport." Even so, most teams had intramural status due to a lack of intercollegiate competitors.
"Opportunities for females in sports were limited. The opportunities for women to do what I do for a living were almost non-existent," Pavlik said. "The opportunity for young women to play and gain skills is important for our future. For them, moving into the future, there are now opportunities for them to have careers in athletics and spend their entire lives around sports."
A tradition of excellence within Juniata's women's athletic programs has been well-established. Eagle's take great pride in their champion women's volleyball, field hockey, and now, women's lacrosse teams.
"Being physical is a part of being human. Being competitive is part of being human," said Pavlik. "To think that at one point, half of our population didn't have the opportunity to express that is sad. Everyone should be able to have the opportunity to take part in the physicality, exercise, and competition of athletics."
Title IX was signed into law by former President Richard Nixon, expanding upon the Civil Rights Act of 1964 by including the prohibition of discrimination within educational programs receiving federal funding.
"Title IX became the vehicle by which institutions were expected and required to advance women's opportunities in athletics," Damschroder said. "It is measured across three areas of compliance—programs must be proportional to the population, institutional resources committed to athletics must equally support men's and women's teams, and programs should aim to grow participation and ameliorate gaps in equity."
Following the enactment of Title IX, Juniata welcomed women's basketball in 1973, field hockey in 1973, women's tennis in 1974, women's volleyball in 1977, softball in 1981, and women's soccer in 1994.
Within the past five years, Juniata has expanded its athletic programs, adding men's and women's golf, men's and women's lacrosse, and men's swimming. These teams, along with baseball, men's and women's basketball, men's and women's cross country, field hockey, football, men's and women's soccer, softball, women's swimming, men's and women's tennis, men's and women's track and field, and men's and women's volleyball, all proudly compete as Eagles.
"We've done a lot of expansion and have met all of the offerings within the Landmark Conference," said Damschroder. "Our goal would be to continue to provide the best educational opportunities to students who are also talented and excel in sports. We see athletics as a path to growth and development and a way for individuals to advance to lives of meaning and purpose."
Contact April Feagley at feaglea@juniata.edu or (814) 641-3131 for more information.