JCMA Hosts Mathemalchemy Exhibit Combining Mathematics and Art
(Posted August 24, 2022)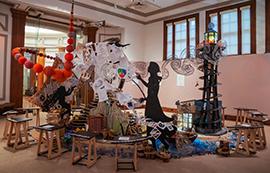 Photo by William Wang '24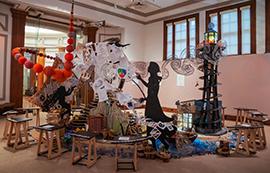 Photo by William Wang '24
HUNTINGDON, Pa.—By the numbers, Mathemalchemy, now on display at the Juniata College Museum of Art (JCMA), is an exhibit with 14 central components, in 20 artistic media, created by 24 mathematical artists and artistic mathematicians over two years, with a division of labor demonstrated in 12 overlapping diagrams.
The sum of its parts, however, is the creation of a world of enchantment inhabited by marvelous and mythical creatures exploring a terrain dominated by colorful representations of mathematical principles.
"This is a large collaboration that originated as the idea of Ingrid Daubechies, who is a professor at Duke University and a polymath," said Kimberly Roth, Juniata College professor of mathematics and one of the mathematical artists behind Mathemalchemy. "She contacted Dominique Ehrmann, a quilter whose work has been exhibited in museums, and they proposed the collaboration in January 2020 at a national conference I was attending."
Following that initial presentation, Roth approached the two to suggest a quilter who might be a good fit for the project.
"Dominique noticed I was knitting during the talk and asked if I wanted to be a part of this," Roth said.
Mathematics and art are inextricably intertwined, but that intersectionality is more evident in the geometry of a mosaic or quilt, or the patterns created by fractals. Mathmalchemy draws clear and whimsical lines tying the two together across many mediums.
"The exhibit has metal work, woodwork, knitting, crochet, quilting, glass working, sewing, quilting, paper art, tamari balls, and ceramics. There is a lot," said Roth. "It is a very multimedia project."
Following the initial conceptualization and recruitment of artists/mathematicians, collaboration began in earnest via Zoom.
"We first worked remotely, individually, and in small teams over Zoom and mailed things back and forth," said Roth.
The creation of "Tess the Tortoise," a character inhabiting the world of Mathemalchemy, was the work of Roth, who knitted her body, and Elizabeth Paley, who crafted her ceramic shell.
"The entire exhibit was first assembled at Duke University during the summer of 2021 over three weeks. I was there for a week in July," she said. "It was amazing to see it all in person."
Roth was involved in the midpoint of the exhibit build, and participated in a myriad of the required tasks like painting, threading objects together, assembling, and even taping paper flowers to wire stems.
Mathemalchemy remained on display at Duke University through December 2021, then was moved to the National Academy of Sciences in Washington, D.C., where Roth had the opportunity to see the completed exhibit for the first time.
"It was interesting work. When I left, it wasn't fully done, so I was excited to get to see the scale of it in person," said Roth. "Walking in and knowing how big it was going to be was one thing, seeing it finished in person was another."
Following the completion of the first stop on its traveling exhibition in June, it was decided that Juniata College would play host through the summer before opening at Boston University in the fall. 
Through the receipt of Juniata's IEI (Innovative Educational Improvement) grant funding secured by Roth and Kathryn Blake, director of JCMA, local school districts will receive money to bring students to experience Mathemalchemy. A public talk with Daubechies and Ehrmann is planned for early December. To accentuate the experience, Jay Hosler, David K. Goodman '74 Professor of Biology, and his son, Max, are creating a comic, which will serve as a guide to the exhibit.
JCMA is open 1-8 p.m. Monday through Thursday and noon to 4 p.m. Saturday.
"I hope students learn that math is more fun than it seems sometimes," Roth said. "It can be used in a lot of things and it can be a lot of fun!"
Contact April Feagley at feaglea@juniata.edu or (814) 641-3131 for more information.