Juniata College Board of Trustees Adds Six New Members
(Posted August 30, 2022)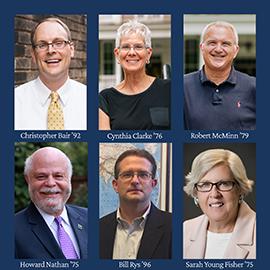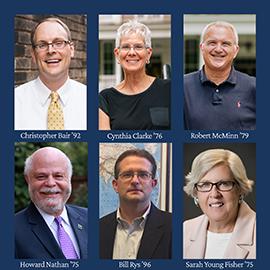 HUNTINGDON, Pa.— The Juniata College board of trustees has added six new members to begin the 2022-2023 academic year. The newly appointed trustees, Christopher Bair of Denver, Co., Cynthia Clarke of Huntingdon, Pa. (alumni trustee), Robert McMinn of Huntingdon, Pa. (church trustee), Howard Nathan of Devon, Pa., Bill Rys of Alexandria, Va., and Sarah Young Fisher of Lancaster, Pa., began their service Sept. 1, 2022, for three-year terms.
Christopher Bair, managing director at Deloitte, earned a bachelor's degree in computer science and business management from Juniata College in 1992 and a master's degree in business administration at Lebanon Valley College in 2000. He began his career as a systems analyst at Tyco Electronics/Amp Incorporated. Bair has been with Deloitte since 2000 and has worked at locations in Harrisburg, Pa., Atlanta, Ga., and Denver, Co.
He is a Certified Project Management Professional through the Project Management Institute and has served his alma mater as a current member of the Information Technology Advisory Board, a previous member of the Alumni Council, and as Class Fund Agent for the Class of 1992.
Cynthia Clarke retired as Director of Enrollment Data Management at Juniata in 2013. She graduated magna cum laude in 1976 from Juniata, earning a bachelor's degree in business management and computer science. Clarke's career at Juniata spanned three decades as she served as Director of Institutional Research and Director of Enrollment Data Management during her tenure. She also worked as a sales agent for Northwestern Mutual Life from 1994-1997.
She is a past president and secretary of the Huntingdon Rotary Club and currently serves as the chair of the Landscape Committee at Stone Church of the Brethren. Clarke is a member of the Class of 1976 Reunion Committee and serves on the Alumni Council.
Robert McMinn, Executive Vice President, General Counsel, and Corporate Secretary at Kish Bank, earned his bachelor's degree in economics at Juniata College in 1979. McMinn graduated magna cum laude with his juris doctor degree from the University of Pittsburgh School of Law in 1992 where he was a member of the Law Review and elected to the Order of the Coif. McMinn was a partner at the law firm of McDowell & McMinn, which later became Bierbach, McDowell, McMinn, and Zanic. Prior to attending law school, he worked in finance and administration at Valley Rural Electric Cooperative in Huntingdon.
McMinn is a member and past president of Huntingdon Rotary Club. He has previously served as a Juniata College trustee, is a board member of the Jana Marie Foundation, and is finance chair and a leadership team member of the Stone Church of the Brethren, Huntingdon, Pa.
Howard Nathan, executive director of the Gift of Life Transplant Foundation, graduated from Juniata in 1975 with a bachelor's degree in biology. He studied epidemiology at University of Pennsylvania and clinical microbiology at the University of Pittsburgh. Nathan began his career as senior transplant coordinator at the Delaware Valley Transplant Program in 1978. He retired as president and CEO of Gift of Life Donor Program in 2022, a position he had held since 1984. Nathan received a Doctorate of Honorary Letters in 2021 at Juniata.
He is a past president of the American Society of Transplantation, the Association of Organ Procurement Organizations, Donate Life America, International Society for Organ Donation and Procurement, and current and past board member of the Alliance for Organ Donation and Transplantation, National Disease Research Interchange, North American Transplant Coordinators Organization, and the United Network for Organ Sharing.
Bill Rys, managing director and head of federal government affairs at Citi, earned his bachelor's degree in pollical science and government at Juniata in 1996. He graduated from Boston University School of Law in 1999 with his juris doctor degree and earned his master's degree in tax law and taxation at Georgetown University Law Center in 2011. Rys began his career as a legislative assistant at the U.S. House of Representatives in 2000 and served as deputy executive secretary at the U.S. Department of the Treasury in 2007.
He has served as a member of Alumni Council and of the Alumni Council Executive Committee.
Sarah Young Fisher, president emeritus of RKL Wealth Management, graduated cum laude from Juniata in 1975 with a bachelor's degree in biology and mathematics. She completed her master's degree in financial services at The American College and received advanced training at the ABA National Trust School. Young Fisher's career includes 13 years with Fulton Bank, operating her own company for 10 years, and 17 years with RKL Wealth Management. 
She is the author of four books relating to individual investment strategy.
She was awarded Juniata's Alumni Achievement Award in 2022 and serves as the chair of the FUMC Endowment Committee. Young Fisher is an Internal Revenue Service Enrolled Agent and serves on the Lancaster County Foundation Investment Committee, Hospice of Lancaster County Planned Giving Council, and the Steering Committee of Lancaster County Hospice Women's Giving Circle.
Contact April Feagley at feaglea@juniata.edu or (814) 641-3131 for more information.