Juniata College Recognized Among Best Liberal Arts Colleges in Nation
(Posted September 12, 2022)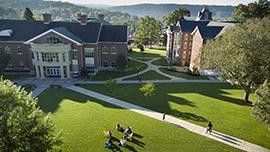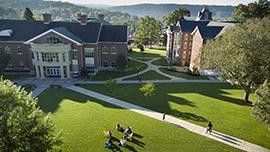 HUNTINGDON, Pa. — Juniata College continues to be recognized among the nation's top liberal arts colleges by the most recent annual U.S. News Top Colleges publication, with standout social mobility and value rankings. 
In the 2022-2023 U.S. News and World Report rankings of best liberal arts colleges in the U.S., Juniata ranked 89th overall, 41st in best value, and 38th in social mobility. The U.S. News ranking is widely considered one of the most notable and visible college rankings in the United States. 
"Every aspect of the college experience at Juniata centers on supporting student success, from the moment a student first visits campus to the day they earn their degree and beyond," said James A. Troha, President of Juniata College. "This ranking is an acknowledgment of the extraordinary work our faculty and staff do every day. I am so appreciative of the collective effort of the entire Juniata community."
The U.S. News ranking follows Washington Monthly magazine's ranking, which placed Juniata at #45 for Liberal Arts Colleges in their 2022 publication. The College was also named one of the best colleges in the nation by the Princeton Review and ranked 79th in Liberal Arts Universities by Forbes Magazine for 2022
The methodologies used by U.S. News & World Report, The Princeton Review, and Washington Monthly vary greatly. Some are based on institutional financial factors, and others are linked to social mobility and institutional resources. 
Juniata consistently scores best in rankings associated with social mobility and value, reflecting an institutional commitment to making college possible for students who might otherwise face nearly unsurmountable hurdles in earning their degree. More than one in every four students are first-generation college students. Nearly a quarter of Juniata's student body is Pell eligible or a first-generation college student. Advancing social mobility by enrolling and graduating students facing financial barriers is one of the metrics considered by U.S. News and World Report in its annual college rankings, and it's a hallmark of Juniata.
More than 4,000 colleges and universities operate in the United States, and only the very best, the top 10 to 20 percent, are ranked by the majority of ranking systems. The United States is home to more than 228 liberal arts institutions, comprising 15.4% of all colleges and universities. Of this total, Juniata consistently distinguishes itself as a place where students magnify their interests and talents, learn to navigate the global community and design lives of meaning and happiness.
Contact April Feagley at feaglea@juniata.edu or (814) 641-3131 for more information.