Juniata's Nationally-Ranked Mock Trial Team Opens Fifth Season
(Posted October 13, 2022)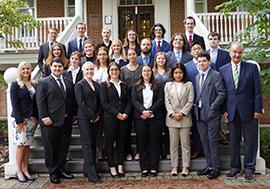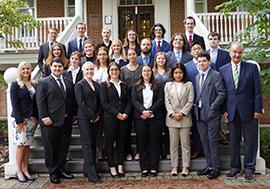 HUNTINGDON, Pa. — Juniata College's nationally-ranked Mock Trial Team will argue the official first case of their fifth season this weekend at the prestigious Happy Valley Invitational. 
The "Legal Eagles," ranked 43rd in the United States by the American Mock Trial Association (AMTA), will take on top-ranked teams, including Yale University, Georgetown University, Michigan State, Penn State, the University of Maryland, Tufts, NYU and American University.
Last year, Juniata finished in the top three in this competition.
"The Happy Valley Invitational is a challenging tournament to open the Season, with all of its Teams being ranked nationally," said coach Dave Andrews '74. "Our team looks forward to playing the best competition in the country."
Juniata opened the season with a scrimmage against Bucknell University at the historic Blair County Courthouse in Hollidaysburg, Pa.
Governed by the AMTA, Mock Trial is an academic competition in which students assume the roles of attorneys and witnesses in a trial. Teams compete against other colleges and universities. In competition, each team tries the case four times, twice as prosecution and twice as defense. All teams are given the same information, and witnesses must stick to the affidavit provided, but the ways different teams interpret the information highlight and challenge each member's ability to adapt, problem-solve, and think on their feet. 
This season's case concerns an Independence Day plane crash in which a pilot deviated from the planned flight route and crashed into a mountainside. The pilot and a passenger, Morgan Felder, lost their lives in the tragedy. The passenger's surviving spouse, Ari Felder, brought a negligence lawsuit. The case involves many possible factors for the crash, including pilot error, drug usage, a medical condition of the pilot, and even fireworks on the Fourth of July.
Members of the Juniata College A Team include Dan Cummins '24 of Clarks Summit, Pa., Nattie Daversa '23 of Altoona, Pa., Alex Sanna '24 of Hummelstown, Pa., Brenna Haggerty '25 of Boiling Springs, Pa., Olivia Day '24 of Duncansville, Pa., Emerson Strawser '25 of Harrisburg, Pa., Francesca Satiro '25 of Leola, Pa., Rich Wei '26 of Altoona, Pa., Cole Gross '26 of Bedford, Pa., Juli DesRosiers '26 of Fairfax, Va., and Kyle Boyer '24 of Lewistown, Pa.
Members of the Juniata College B Team include Quintin Ioime '24 of Hamden, Ct., Alexa Cinque '23 of Orangeburg, NY, Max Oley '25 of Richmond, Va., Brendan Andrews '25 of Altoona, Pa., Prash Khadka '26 of Lalitpur, Nepal, Audree Long-Yarrison '26 of Martinsburg, Pa., Madi Roth '26 of Norristown, Pa., Madison Hess '26 of Waynesboro, Pa., Carter Daniels '25 of Annandale, Va., Gracie Ruch '25 of Tower City, Pa., Charlotte Crane '26 of Henrico, Va., Benjamin Bankhead '26 of Oak Park, Ca., Jack Radoff '26 of Houston, Tx., and Immy Ramsdale of Kings Lynn, United Kingdom. 
Contact April Feagley at feaglea@juniata.edu or (814) 641-3131 for more information.