The Baker Institute at Juniata College to host International Symposium on Ukraine War
(Posted October 14, 2022)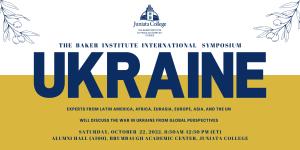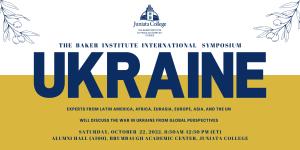 HUNTINGDON, Pa. — The Baker Institute for Peace and Conflict Studies at Juniata College will host an International Symposium, "The War in Ukraine: Global Perspectives," from 8:30 a.m. to 12:30 p.m. Saturday, Oct. 22, in Alumni Hall, Brumbaugh Academic Center at Juniata College.
The symposium will focus on the conflict and war in Ukraine, its implications for world peace and stability, and practical and realistic efforts for peaceful transformation.
With the recent barrage of a Russian missile strike in Kyiv and the dangerous escalation of the war on many fronts, including the potential threats to use tactical nuclear weapons, I cannot think of a better time to host this international symposium and invite distinguished scholars to come to Juniata and share their perspectives regarding the local and global consequences of the war," said Zia Haque, Director of the Baker Institute for Peace and Conflict Studies.
A distinguished group of scholars, academicians, and professionals from around the world, symposium panelists are Juan Carlos Sainz-Borgo, professor and dean at University for Peace (UPEACE) in San José, Costa Rica; Mehari Taddele Maru, part-time professor at the Migration Policy Centre and the Academic Coordinator of the Young African Leaders Programme at the School of Transnational Governance at the European University Institute in Florence, Italy; Anna Ohanyan, Richard B. Finnegan Distinguished Professor of Political Science and International Relations at Stonehill College, Easton, Ma.; Caecilia van Peski, a Commander in the Royal Netherlands Navy, a military veteran (NATO Resolute Support Mission Afghanistan, 2020-2021), and an authority in the field of Security & Defense, Civil-Military Cooperation, Democratization & Elections and Rule of Law & Equality; Swaran Singh, a visiting professor at the University of British Columbia in Vancouver, Canada, and professor of diplomacy and Disarmament at Jawaharlal Nehru University in New Delhi, India; and Atila Uras, Senior Programme Officer at UN Environment Programme (UNEP), temporarily deployed to support the UN RC Office in Ukraine.
The Russian war against Ukraine, ongoing for the last eight months, continues its hugely devastating impact on the Ukrainian people, their infrastructure, livelihood, and essential services. Millions of Ukrainians have fled, straining humanitarian resources and services in neighboring countries and beyond.
This highly destructive land war has undermined the fragile security architecture of Europe and brought unimaginable suffering—not only within Ukraine but across the globe—with runaway inflation, high energy costs, and an imperiled food supply. The Ukraine war significantly threatens world peace and stability, with an increased risk of nuclear confrontation.
Panelists will share their diverse experiences in international law, the environment, peace operations, and peacebuilding to explore several facets of the Ukraine conflict and war, as well as the current global ramifications
This symposium is free and open to the public. All are welcome to join in person or via Zoom. For more information and an event schedule, please contact Zia Haque, Director of The Baker Institute for Peace and Conflict Studies, at haque@juniata.edu or Kaitlyn Granger, Program Coordinator of The Baker Institute for Peace and Conflict Studies, at grangek@juniata.edu.
Contact April Feagley at feaglea@juniata.edu or (814) 641-3131 for more information.