Cantus to Perform 'Song of the Universal' at Juniata College
(Posted November 2, 2022)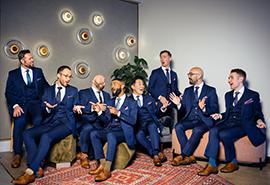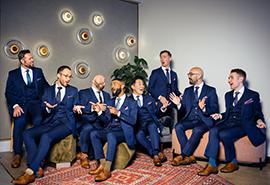 HUNTINGDON, Pa.—Juniata College will host Cantus, a low-voice professional vocal chamber ensemble who will present Song of the Universal, at 7:30 p.m. Friday, Nov. 11. Held in the Halbritter Center for the Performing Arts, all are welcome to attend this 75-minute ticketed event. Through a collaboration with the Huntingdon County Arts Council, Cantus will also present a "mini-concert" at 1 p.m Saturday, Nov. 12, at the new Arts Center at the corner of Mifflin and 12th Streets. 
This performance of Song of the Universal is part of the Juniata Presents Performing Artist series. With performances throughout the year, the series aims to expand cultural education and artistic viewpoints for campus and local community audiences. It supports and brings attention to performance as a celebrated art form.
"We are so excited to be able to share these world-class events with our community," said Kathryn Blake, director of the Juniata College Museum of Art. "Whether it's music, dance, theatre, or art museum exhibitions, Juniata College welcomes everyone to campus to enjoy the benefits the arts provide to our minds and spirits."
Song of the Universal, a title drawn from a poem by Walt Whitman, explores how people across time and geography experience the divine. Weaving together music and spoken word, Cantus touches on faith traditions across cultures, performing works from an ancient chant by Hildegard von Bingen to Paul John Rudoi's "Song of Sky and Sea." Song of the Universal features a newly commissioned multi-movement work by three emerging composers: Mari Esabel Valverde, Yosvany Estepe Diaz, and Mariana Sadovska, reflecting universal themes of humanity's relationship to the great mystery: Creation, Life, and Afterlife. Cantus offers a transcendent and deeply human program in Song of the Universal.
Cantus is widely known for its trademark warmth and blend, innovative programming, and riveting music performances ranging from the Renaissance to the 21st century. As one of the nation's few full-time vocal ensembles, Cantus has come to prominence with its distinctive approach to creating music. Working without a conductor, the members of Cantus rehearse and perform as chamber musicians, each contributing to the entirety of the artistic process, creating programs that give voice to shared human experiences. Cantus enjoys a vigorous schedule of national and international touring and home concerts in Minneapolis-St. Paul, Minnesota. Cantus has performed at Lincoln Center, Kennedy Center, UCLA, San Francisco Performances, Tanglewood, and Bravo! Vail Valley Music Festival.
For tickets or to learn more about Juniata Presents events, visit www.juniatapresents.com. General admissions tickets for single performances are $20, except where otherwise noted. Single-show tickets for seniors over 65 and children aged 18 and under are $12. Juniata College students are admitted free with a student ID.
Contact April Feagley at feaglea@juniata.edu or (814) 641-3131 for more information.