Author and Activist to present 'Triumphing Over Injustice' at Juniata College
(Posted January 30, 2023)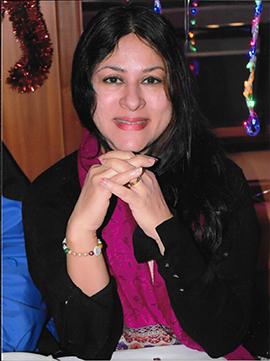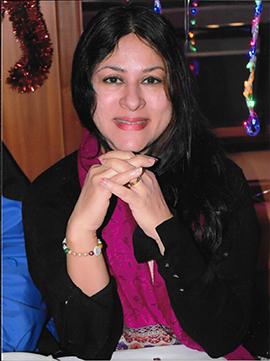 HUNTINGDON, Pa. — Juniata College is pleased to host the 2023 Malloy Distinguished Lecture. Sharmin (Reepi) Ahmad will present "Triumphing Over Injustice: A Daughter's Account of Leadership During the Violent Birth of Bangladesh" at 7:30 p.m. Thursday, Feb. 16, in Neff Lecture Hall, von Liebig Center for Science. This event is free and open to the public and is sponsored by the Office of the Provost.
Ahmad was in a unique position in 1971 when, as a girl of 11, she witnessed a genocide against her people. During this horrific period, she saw her parents take on extraordinary leadership roles, which helped birth Bangladesh on the principles of equality, human dignity, and social justice. In her presentation, Ahmad will explore stories of heroism and sacrifice, courage and compassion, and examine the lessons that continue to guide humanity's struggle for liberty, justice, and peace.
She emigrated to the United States in 1984 and earned a Master of Arts degree in Women's Studies with a focus on Early Childhood Education from George Washington University, Washington, D.C., in 1990.
Her first book, The Rainbow in a Heart, was published in 2003, followed by Daughter of Bangladesh Liberation Witness Tahrir Emancipation in 2012, and Tajuddin Ahmad: Neta o Pita (Tajuddin Ahmad: Leader and Father) in 2014. Ahmad contributed a chapter, "The Rising Phoenix and Weaving Peace," in A Force Such as the World Has Never Known: Women Creating Change, published in 2013.
She has been featured in The Washington Post, and her editorial letters and articles have been published in various newspapers, including The Wall Street Journal. Her life and interview are included in the Voices of American Muslims: Twenty-three Profiles by Linda Brandy Cateura, published in 2005.
Ahmad's work in human rights and interfaith bridgebuilding includes television and radio appearances and lectures in the U.S. and abroad. She participated in the Fourth World Conference of Women in Beijing, China, and the First International Non-Governmental Organizations Conference in Tehran, Iran, both in 1995 and the United Nations Conference on the Status of Women in 2002. She served on the steering committee of two U.S.-based organizations focused on helping destitute women and children, Women in Development and Samhati. Ahmad is the founder and president of the One Light Institute.
In 2021, Ahmad received the President's Volunteer Service Award and was twice invited to the White House by President Bill Clinton and First lady Hilary Clinton. She was honored with a Woman of Distinction Award from Soroptimist International in 1996 and a Women Empowerment Award from Agami Education Foundation-USA in 2019.
The Edwin A. & Susan R. Malloy Lectureship Fund was created in 1985 by Edwin A. and Susan R. Rabinowitz Malloy to enhance the quality of life at the College and in the Huntingdon community. Annual income from the endowment is used to bring speakers, organizations, and activities to the campus and community, with selected programs including, but not limited to, nationally- or internationally-known speakers, artists, writers, and musical groups.
Contact April Feagley at feaglea@juniata.edu or (814) 641-3131 for more information.