'Legal Eagles' Mock Trial Team to Compete in Opening Round National Championships
(Posted February 27, 2023)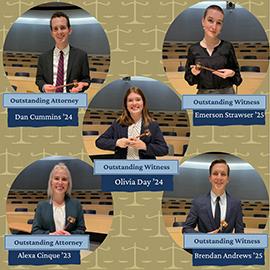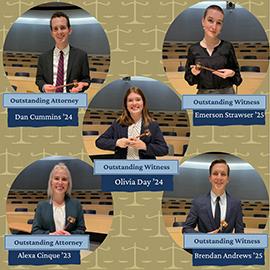 HUNTINGDON, Pa. — The verdict is in! Juniata College's "Legal Eagles" have secured their bid to face off against the highest-ranked Mock Trial teams in the nation at the American Mock Trial Association (AMTA) Opening Round National Championships next month in following their victory at Regionals.
In fact, both Juniata Mock Trial Teams earned bids to the National Playoffs. The Juniata A Team took first place edging out Yale University, and the Juniata B Team took Third Place out of the 24 Teams competing in Buffalo this past weekend, where the top six teams earned bids to the Nationals.
This marks the fifth year of Mock Trial at Juniata College and the fifth year the team, led by their coach, Attorney David Andrews '74, has advanced to the National Playoffs. This year the playoffs will be hosted by Xavier University and the University of Cincinnati, held at the University of Cincinnati March 18-19. 
"We played tough teams throughout this weekend's tournament, including Juniata vs. Hamilton College, one of the featured trials Sunday with two nationally-ranked teams going head to head. We won both ballots of the Judges," Andrews said. "We went to tough invitational tournaments getting ready for this competition. When we play the best throughout the year, we're not intimidated when we get to Regionals. That's a big factor in why we did well."
The Juniata College A Team faced off against University of Toronto, SUNY Binghamton, Hamilton College, and SUNY Buffalo teams. The Juniata B Team played the University of Rochester A and B, St. John Fisher, and Canisius.
Juniata College also led all Teams in individual honors with Emerson Strawser '25, Brendan Andrews '25, and Olivia Day '24 winning All-Region Witness Awards, and Dan Cummins '24 and Alexa Cinque '23 won All-Region Attorney Awards.
"It was a Juniata College celebration at the awards ceremony," said Andrews. "It's unique to have two teams go to Nationals and even more so to have them place first and third. They've worked hard all year, and all of that hard work has paid off. We've become a powerhouse at a national level."
The hard work didn't stop following the weekend victory as team members used the long bus ride home to assess case changes and begin strategizing for the next level of competition.
This season's case concerns an Independence Day plane crash where a pilot deviated from the planned flight route and crashed into a mountainside. The pilot and a passenger, Morgan Felder, died in the tragedy. The passenger's surviving spouse, Ari Felder, brought a negligence lawsuit. The case involves many possible factors for the crash, including pilot error, drug usage, the pilot's medical condition, and even fireworks on the Fourth of July.
A total of 660 teams entered the national tournament at the start, with playoff competitions taking place throughout the United States. The remaining 48 teams will face off at the National Championships in Memphis, Tennessee., April 14-16, 2023.
Team members participating in the National Championship are captain Dan Cummins '24, captain Nattie Daversa '23, captain Emerson Strawser '25, Alex Sanna '24, Max Oley '25, Cole Gross '25, Rich Wei '25, Brenna Haggerty '25, Kyle Boyer '24, Olivia Day '24, captain Brooke Franke '23, captain Madison Hess '26,  Alexa Cinque '23, Shea Langille '25, Brendan Andrews '25, Prashanti Khadka '26, Madi Roth '26, and Juli DesRossiers '26.
Contact April Feagley at feaglea@juniata.edu or (814) 641-3131 for more information.