Juniata's Mock Trial Team Heading for National Championships
(Posted March 21, 2023)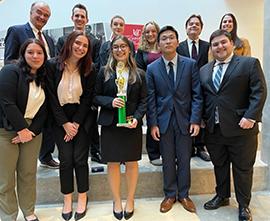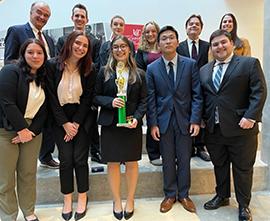 HUNTINGDON, Pa. — The verdict is in—Juniata College's Mock Trial team has secured their bid to the American Mock Trial Association's (AMTA) National Championship Tournament next month in Memphis, Tennessee, where they will face off against the highest-ranked teams in the nation.
Led by their coach, Attorney David Andrews '74, the Juniata College Mock Trial team has advanced to the National Playoffs each of the five years of their existence. This year marks their second consecutive National Championship bid.
"I am so proud that these students were rewarded for their hard work," said Andrews. "Our Team spent their Spring Break practicing and traveling to Cincinnati, Ohio, for this tournament."
Juniata's team members were also recognized individually at the National Playoffs at the University of Cincinnati, with Dan Cummins '24 winning an Intercollegiate Outstanding Attorney Award and Alex Sanna '24 winning an Intercollegiate Outstanding Witness Award.
From the tournament held in Cincinnati, Ohio, Juniata will join teams from Yale University, Ohio State University, Indiana University, University of Cincinnati, and Patrick Henry College, as well as six teams from each of the eight national playoff tournaments held throughout the United States this weekend, at the championships hosted by the University of Memphis School of Law and Rhodes College, April 12-17, 2023.
"The Juniata Mock Trial Team is respected by the best teams in the country, as evidenced by the Duke University Team calling us to scrimmage last week before the National Playoffs, which we did last week," Andrews said.
The "Legal Eagles" were returning to Juniata Sunday night when the National Championship case files were released. The new case for the National Championship concerns an exonerated murder suspect who sues their former attorney for legal malpractice.
"We were one of the last national opening rounds to conclude in Cincinnati. We knew a totally new case was going to be revealed, and they were ready for it," Andrews said. "Our team wasn't sitting on the bus celebrating or resting, they were hard at work analyzing the new case."
Team members who will participate in the National Championship are captains Dan Cummins '24 and Nattie Daversa '23, and Alex Sanna '24, Brenna Haggerty '25, Emerson Strawser '25, Max Oley '25, Rich Wei '25, Cole Gross '25, Olivia Day '24, Shea Langille '25, and Madison Hess '26.
Contact April Feagley at feaglea@juniata.edu or (814) 641-3131 for more information.