Juniata Welcomes New Dean of Equity, Diversity, and Inclusion
(Posted March 22, 2023)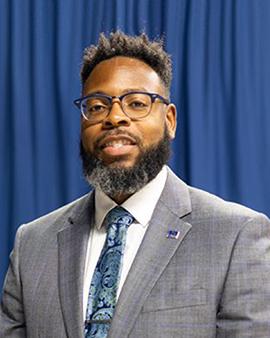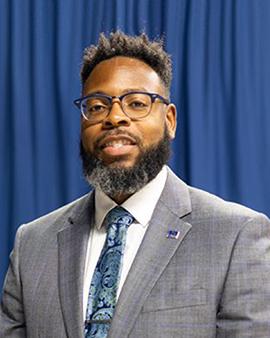 HUNTINGDON, Pa.—After an extensive national search, Juniata College has hired Derek A. James as Dean of Equity, Diversity, and Inclusion. James will begin his role this summer and will serve as the senior diversity officer of the College, responsible for continuing to build, operationalize, and integrate efforts that support and enhance equity and inclusivity in the College's learning environment and community.
"We are extremely excited to welcome Derek to the Juniata community. Derek's familiarity with central Pennsylvania, broad EDI experience, and his ability to build effective partnerships to advance this important work separated him from a strong national pool of candidates," said President James Troha. "I can't wait to begin working with Derek this summer."
As a Senior Leadership Team member, James will work closely with Juniata's faculty, administration, and students to advance its strategic priority of growing, nurturing, and supporting an inclusive, engaged, and vibrant community.
"Derek brings a wealth of experience in program development and community-building that will be meaningful in our ongoing efforts to advance equity at Juniata," said Provost Lauren Bowen who served as co-chair of the search committee. "His authentic interest in multiple voices, perspectives, and experiences which was apparent throughout the interview process really distinguished his candidacy."
James most recently held the role of coordinator of multicultural programs within the College of Agricultural Sciences at the Pennsylvania State University. James has developed programming focused on equity, diversity, and inclusion and served as one of the College of Agricultural Sciences' subject matter experts. At Penn State, James co-chaired the Commission on Racial and Ethnic Diversity (CORED) and chaired the College Council of Multicultural Leadership (CCML) while continuing membership in both groups. He was also a member of the Task Force on Policing in Communities of Color. James earned a bachelor of science degree in biology from Grand Valley State University and a master of science degree in agricultural and extension education from Penn State.
"I am excited to join the Juniata College Community and looking forward to working with the senior leadership team, the students, and the staff and faculty," said James. "Equity, Diversity, and Inclusion are all necessary for any institution's success, and I hope to help lead in making this community a place where all can thrive."
For the past 18 years, James has worked in secondary and higher education, focused on providing opportunities for those historically excluded and those who have faced structural barriers and inequitable policies that have prevented equal access and chances to succeed.
"The Juniata College community should be proud that a well-designed and implemented selection process attracted a highly qualified pool of candidates," said Amr Abdalla, Baker Institute Scholar in Residence, co-chair of the search committee. "Derek's experience, knowledge, leadership, and compassion represented everything that our community has been looking for."
Juniata welcomes students from nearly 40 different countries and states while continuing to increase the percentage of traditionally underrepresented domestic students. Nearly a third of Juniata students are the first in their family to go to college.
Contact April Feagley at feaglea@juniata.edu or (814) 641-3131 for more information.