Full Steam Ahead: Student Recognized for Railroad Preservation Internship
(Posted April 5, 2023)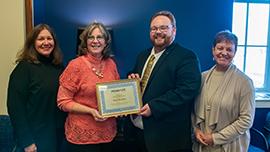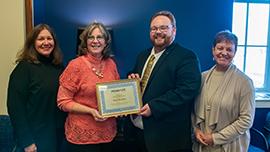 HUNTINGDON, Pa.—Accepting an internship at a National Historic Landmark, Brian Standfest '23 gained hands-on experience preserving artifacts and was recognized as the 2022 JoAnne Day Student of the Year in the Liberal Arts category by PennACE (the Pennsylvania Association of Colleges and Employers).
Named for the late JoAnne Day in honor of her passion for education and commitment to students, the award recognizes the achievements and contributions made by undergraduate students who have completed internships.
"I was honestly shocked to learn that I had won the PennAce JoAnne Day Student of the Year Award in the Liberal Arts Category," Standfest said. "I was not expecting to be selected from undergraduate students across Pennsylvania! It does make me feel like I was doing good work with my internship, and I hope to continue this type of work in the future."
Standfest, who is studying history and museum studies, interned at the East Broad Top Railroad (EBT) Archives and Special Collections in Rockhill Furnace, Pa. The EBT was built in 1872 to service iron furnaces and coal mines along a 33-mile corridor in Huntingdon County, Pa. The only surviving narrow-gauge common carrier railroad east of the Rocky Mountains, the EBT is undergoing preservation and restoration as a historical destination.
"I was tasked with creating a general inventory spreadsheet and data dictionary through Google Sheets. I also helped clean different paper materials, prepare the maps and drawings for scanning with a wide-format scanner, and prepare them for future permanent storage," said Standfest. "I was also generally responsible for helping keep the archives clean and ensuring to not further damage the paper materials and assisting the archivist, Julie Rockwell, and archive technician, Sammy Bellin ('22), with their archival tasks."
Through Standfest's work, visitors to EBT will be provided a window into the past as they attend events and enjoy a ride on the historic railroad. He credits his advisers, Dr. Jennifer Streb and Dr. Matthew Powell, Tammy Stuber, assistant director of career services, and Kathryn Blake, director of the Juniata College Museum of Art and Museum Studies Professor, for their partnership and mentorship throughout his internship.
"Kathryn Blake was very helpful in my placement at the East Broad Top Railroad for my internship," Standfest said. "I first visited the EBT while on a field trip with the museum practicum class, in which she is the professor, and helped me connect with the EBT archivist, Julie Rockwell, which eventually resulted in gaining my internship."
Following graduation, Standfest said he plans to seek a position in a museum or archive to gain more experience in the field."
Contact April Feagley at feaglea@juniata.edu or (814) 641-3131 for more information.