It's Phenomenal! Physics Phun Night Has Education and Entertainment Down to a Science
(Posted April 5, 2023)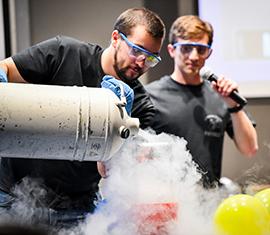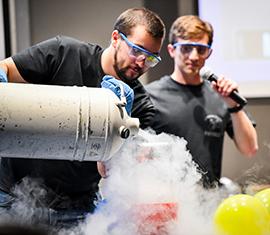 HUNTINGDON, Pa. – What do fiery displays, floating spheres, and flying bowling balls have in common? All these phenomena and more will be featured at Physics Phun Night at 7 p.m. Thursday, April 13, 2023, in Alumni Hall, Brumbaugh Academic Center, Juniata College.
Sponsored and presented by Juniata College's Chapter of the Society of Physics Students, this free event, combining entertainment and education, is "phun" for all ages.
"We want to give everyone the power of observing physical phenomena, show them how much fun science can be, and encourage them to do things that they have not tried before," said Marta Celebic '24, president of Juniata's chapter of the Society of Physics Students. "At Physics Phun Night, Juniata students will show physics experiments and hopefully inspire some of the younger community members to pursue a career in science, specifically physics."
Celebic added that physics offers an explanation for how the world operates.
"Physics is everywhere," she said. "I love discovering new ways of applying physics to my daily life."
This will mark the 23rd Physics Phun Night, a favorite for science lovers of all ages.
 "This has become a much-anticipated Juniata College and Huntingdon Borough event, said Jim Borgardt, William W. Woolford Professor of Physics at the College. "This event aims to inspire a sense of wonder in everyone, especially kids, with an evening of visually spectacular and engaging demonstrations."
Demonstrations will include students igniting flaming balls of methane gas, using liquid nitrogen to show the effects of extreme cold on everyday objects, and the ever-fascinating bed-of-nails experiment—complete with guest victim, er, volunteer.
"We will 'blow' things up, show how forces impact our bodies and our surroundings," said Celebic. "It will involve a series of experiments followed by simplified explanations for anyone to understand."
Contact April Feagley at feaglea@juniata.edu or (814) 641-3131 for more information.