Mountain Day of the Mind' to Showcase Student Research and Projects
(Posted April 20, 2023)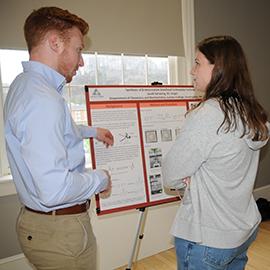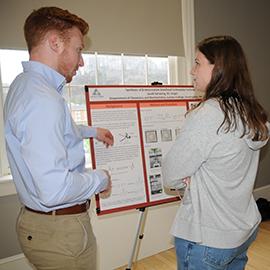 HUNTINGDON, Pa. – Liberal Arts Symposium (LAS), a honored Juniata College academic tradition known as "Mountain Day of the Mind," will be held Thursday, April 27, at locations throughout campus.
The community is welcome and encouraged to visit campus for this day-long event. Established in 2006, LAS provides a forum for students from divergent areas of study to present the work conducted in the classroom, laboratory, field, community, or studio to their peers and the community.
"LAS is a wonderful moment for many students and members of the campus community to gather and celebrate their research and accomplishments," said Provost Lauren Bowen, chief academic officer at Juniata College. 
All-day events include IMA (Integrated Media Arts) and Studio Art Capstone Exhibition and an exhibit of Student Art Projects, both at the Juniata College Museum of Art, beginning at 9 a.m.
Special sessions begin at noon with the 20th annual Jazz on the Plaza at Detwiler Plaza. These sessions run through 5 p.m. and include "International Education at Juniata," a LAS Celebration Pep Band Performance, and "Building Social Work Practice Competency: Professional Semester. Experiences Serving Huntingdon County."
Student presentations will take place in various locations within Brumbaugh Academic Center and Good Hall beginning at 9 a.m. and span a range of mediums and disciplines. Topics include "Identifying Emergency Medical Service Health Deserts in Huntingdon County," "Assessment of Old Crow Wetland Bird Biota," "Amazon's Recommender Systems—Algorithms, Security, and User Interface," and "The Rise, The Fall, and The Legacy of the Tucker '48."
Research poster presentations will be in Ellis Ballroom starting at 2 p.m.
To view additional information and the full schedule of poster and presentation times, please visit https://services2.juniata.edu/academics/symposium/schedule.html or contact the Provost's Office at Juniata College at 814-641-3123.
Contact April Feagley at feaglea@juniata.edu or (814) 641-3131 for more information.