Legacies to be Celebrated at 145th Commencement Ceremony
(Posted April 24, 2023)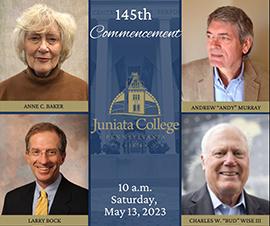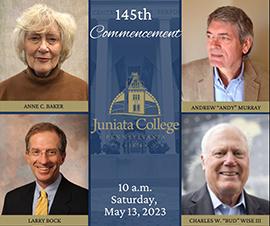 HUNTINGDON, Pa.–Two distinguished members of the Juniata College community, Andrew "Andy" Murray, Elizabeth Evans Baker Professor of Peace Studies, Emeritus, and Anne C. Baker, Trustee Emerita, will deliver the commencement address at the 145th Commencement Ceremony at 10 a.m. Saturday, May 13, 2023.
Murray and Baker, along with Charles W. "Bud" Wise III, trustee and former professor of business and economics, and Larry Bock, women's and men's volleyball coach from 1977 to 2011 and Athletic Director from 1995-2011, will receive an honorary doctor of humane letters degree.
"We are so blessed to have such quality people to lift up and honor at this year's commencement ceremony," said President James A. Troha. "I am very much looking forward to having our graduates hear from Anne and Andy, two huge figures in the history of Juniata College. Their life experiences are extraordinary, and I am confident their message will be a powerful one."
Murray graduated from Bridgewater College in 1964 with a bachelor of arts degree in sociology. He attended Bethany Theological Seminary, where he earned his master of divinity degree in theology in 1968 and his Doctor of Ministry in 1980. Murray completed a certificate in studio production at Berkeley College of Music in 2009.
He came to Juniata College as campus minister from 1971 to 1986 and was college chaplain from 1986 to 1990. Murray was promoted to assistant professor in 1976 and, in 1987, was appointed associate professor of peace and conflict studies. He founded Baker Institute for Peace and Conflict Studies in 1986 and was named Elizabeth Evans Baker Professor of Peace and Conflict Studies in 1991.
Baker earned a bachelor of arts degree in English literature at Oberlin College in 1961 and a bachelor of music degree in violin performance from the New England Conservatory of Music in 1967. She continued her musical education with a master of arts degree in violin performance from Tulane University in 1976. Baker completed her juris doctor degree at Loyola University of Law in 1982.
She is the daughter of John C. Baker '17 and Elizabeth Evans Baker, who established the Baker Institute for Peace and Conflict Studies. Baker has served on the Baker Institute Advisory Board and the Board of Trustees from 1987 until 2008 when she was named Trustee Emerita. She served on the presidential search committee from 1997 to 1998, hosted regional events, and was a volunteer for the Uncommon Outcomes campaign. Baker is a Quinter Lifetime Benefactor, steadfastly contributing towards scholarships, the arts, Peace and Conflict Studies, and many other areas.
Wise earned a bachelor of arts degree in psychology at Ohio University in 1969. He completed his master's in business administration at the University of Pittsburgh in 1973. He began his career as an employee relations professional at PPG Industries. He came to Juniata College in 1973 as an instructor in the economics and business department and continued to become first an assistant professor and, later, associate professor. Wise returned to PPG Industries in 1979, retiring as vice president of human resources in 2010.
Wise became a Juniata trustee in 2000 before being elected to emeritus status in 2022. In that time, he co-chaired the presidential search in 2012 as well as co-chaired the historic BELIEVE Campaign, Juniata's largest philanthropic endeavor to date. Wise has served as a former Executive in Residence in the Accounting, Business & Economics Department; a guest lecturer; and an academic evaluator. He is a Brumbaugh Lifetime Benefactor and Heritage Circle member. He has also served as a Juniata Admissions Ambassador, Juniata Community Scholarship referrer, and regional events volunteer and host.
Bock graduated from the Pennsylvania State University with a bachelor of science degree in agricultural business management in 1971. He joined the staff at the former Union National Bank in Huntingdon, Pa., in 1973 and was named to the then part-time position of head women's volleyball coach of Juniata College's newly-minted team in 1977.
As the winningest volleyball coach in the history of the NCAA, he turned Juniata into a national power in volleyball over his 34 years of coaching. Bock holds NCAA records for the most career wins as a women's head coach (1,348) and collegiate volleyball coach (1,448). Juniata accumulated a 1,252-192-3 record in his time at the helm and made it to the NCAA Tournament every year since its inception in 1981. The Eagles won NCAA titles in 2004 and 2006 and reached the championship match on six additional occasions. In 2004, he surpassed 1,000 wins, the first volleyball coach in any division to do so. Bock also concurrently served six years as the men's coach, leading them through their first six seasons as a program, including three EIVA Division III titles.
Commencement will be viewable by live stream at https://www.youtube.com/watch?v=hNk0HfTok_c.
Contact April Feagley at feaglea@juniata.edu or (814) 641-3131 for more information.