Award to Honor Beloved Professor of Communication
(Posted April 26, 2023)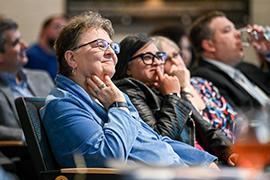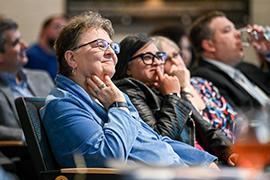 HUNTINGDON, Pa.—For over 33 years, Donna Weimer, Thornbury Professor of Communication, has inspired Juniata College students to pursue excellence in their every endeavor. Now, to honor her many contributions to the College as she prepares for retirement, The Donna S. Weimer Award has been established to recognize a junior or senior who has made creative and positive contributions to the field of communication each year.
"If you hear the common chatter about this palpable quality of 'community' at Juniata, you can look to Dr. Donna Weimer as influential in weaving, sustaining, empowering, and transforming us to thrive as a community," said Dr. Grace Fala, Professor Emerita of Communication. 
Weimer joined the Juniata College community as an English professor in 1990 and soon designed the communication curriculum and the designated program of emphasis (POE) in communication. Since her arrival at Juniata, Weimer has been at the heart of the Bailey Oratorical, a tradition that she took great pride in restoring. 
As an educator, she has touched the lives of over 4,000 students, half of whom were her personal advisees, who reaped the benefits of her instruction and wisdom. This exceptional artistry in teaching has led to her recognition with numerous awards, including the Lindback Teaching Award, Juniata's Woman of the Year Award, the Beachley Award for Service, the Distinguished Carroll Arnold Service Award, the Harvey Kelly Excellence in Teaching Award, and the Robert T. Oliver Lifetime Achievement Award from the Pennsylvania Communication Association (PCA).
Weimer's many friends, family, and colleagues at Juniata have come together to establish The Donna S. Weimer Award. All are invited to honor Weimer through a contribution to this award. For those who have already made a gift or pledge of support to the award, please accept our thanks for sharing the vision! If interested in participating in this effort, please contact Greg Bayles, associate director of major gifts, at (814) 641-3442 or baylesg@juniata.edu. Gifts
may also be made online at www.juniata.edu/give by selecting "other designation" and noting "Donna S. Weimer Award" in the comments section.
Contact April Feagley at feaglea@juniata.edu or (814) 641-3131 for more information.