Growing Global Citizenship: Juniata Senior Receives Fulbright to Teach in Bulgaria
(Posted May 3, 2023)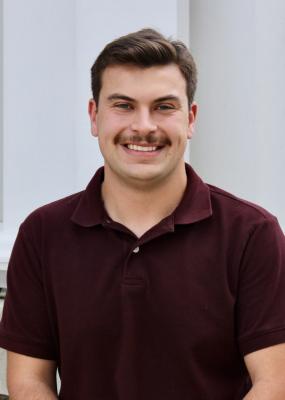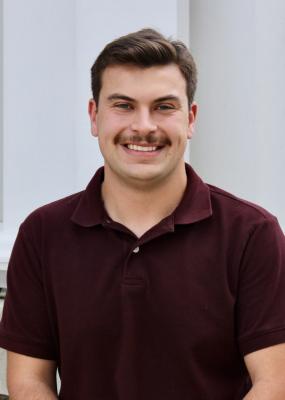 HUNTINGDON, Pa. ­— Kyle Louder, a Juniata College senior from Mifflintown, Pa., studying museum education, has received a Fulbright English Teaching Award to Bulgaria.
Louder will serve as an English Teaching Assistant (ETA) at the Dr. Prof. Asen Zlatarov Foreign Language High School in Haskovo, Bulgaria.
Teaching in Europe will allow Louder to continue the international experiences that began during his time at Juniata. During his junior year, he spent a semester abroad studying in Lille, France and traveled to Barbados in January for a short-term trip.
"I grew up in a small town that is not very culturally or ethnically diverse, giving me a limited view of the world. Studying abroad allowed me to expand my worldview through cultural immersion that presented new challenges and opportunities," said Louder, who served as a captain of the campus tour guides, a resident assistant, and Tri-Alpha President on campus. "In experiencing each new challenge or opportunity during my time abroad, I grew as a person, becoming more confident, adaptable, and empathetic. Now I understand what it means to be a global citizen and the benefits of seeking to connect with unfamiliar cultures, lifestyles, ideologies, and backgrounds."
The Fulbright English Teaching Assistant (ETA) programs place individuals in classrooms abroad to assist local English teachers. ETAs help teach the English language while serving as cultural ambassadors for the U.S. The age and academic level of the students varies by country, ranging from kindergarten to university level. Applicants for English Teaching Assistant Programs can apply to only one country.
"The Fulbright program started in the aftermath of World War II, it grew during the Cold War, and it continues on today, expanding the boundaries of research, knowledge, and sharing English as a foreign language in partner nations," said Dr. James Tuten, Charles R. and Shirley A Knox Professor of History and Juniata's Fulbright Adviser. "At its heart, though, this prestigious honor is about people connecting and creating bonds across international borders and cultures. Our Fulbright scholars grew through their experiences, and with today's technologies, they maintain the friendships they build for decades."
Louder learned about the Fulbright through an information session led by his adviser, Dr. Tuten.
"Dr. Tuten has been the most instrumental person in guiding me through the application process," said Louder. "He helped me understand the application requirements, write my application essays, and choose my placement country. I'm very grateful for his guidance, which has helped me become a Fulbrighter."
Louder plans to continue his education following completion of his Fulbright experience.
"After graduating from Juniata and my Fulbright experience, I hope to obtain an advanced degree in public history and find employment in the federal government. My ultimate career goal is to become an educator for one of the Smithsonian museums or an archivist for the National Archives and Records Administration," Louder said. "I am also considering moving and working abroad in a cultural institution if given the opportunity."
Contact April Feagley at feaglea@juniata.edu or (814) 641-3131 for more information.