Peacebuilders Challenge Class of 2023 to Make Meaningful Contributions, Embrace Simple Beauties
(Posted May 15, 2023)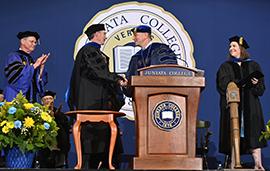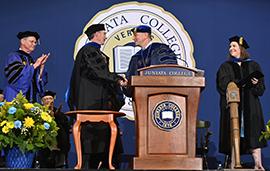 HUNTINGDON, Pa. -- The members of the Juniata College Class of 2023, in a celebration of their passion and enthusiasm for learning, gathered in Kennedy Sports and Recreation Center for the final time as students for the 145th commencement ceremony on May 13.
A total of 308 graduates received their degrees, 18 students completing master's degrees, 87 earning bachelor of arts degrees, and 203 presented with their bachelor of science degrees. 
"This is my 10th commencement. I can say without question that you have endured more ups and downs and more twists and turns than any other class that I have had the privilege to witness," said Juniata College President Dr. James A. Troha. "These past several years have taught me, and I'm sure you can relate that life is sometimes just messy."
He praised the resilience displayed by the members of the Class of 2023.
"You are here because you leaned in. You are here because of your unyielding commitment to finishing what you started," Troha said. "You made it happen because you wanted to be here; it's as simple as that. For that, congratulations."
Troha honored the contributions of friends, family, teachers, pastors, and particularly the parents who supported the students throughout their college careers and led students in a round of applause.
"In addition to those family and friends with us today, we owe our collective appreciation to our talented and devoted faculty who have prepared all of you to be leaders in the diverse and complex world you are about to embrace," he said, applauding the faculty as well.
Concluding his remarks, Troha reminded the Class of 2023 of their responsibilities to themselves and the world around them.
"Graduates, you have probably heard that with knowledge comes responsibility," said Troha. "As you walk out these doors this afternoon and embark on your next journey, that responsibility should be a joyous, privileged burden. As a Juniata alumnus, you are representing all that is good about this institution. Take up that responsibility proudly and with unmistakable conviction."
Abigail Drummond, Senior Class President for the Fall of 2022, and Brandie Ray, Senior Class President for the Spring of 2023, shared messages of hope and reflection with their fellow graduates. The leaders celebrated the mental health advocacy work that is the legacy of the Class of 2023.
Four honorary doctor of humane letters degrees were bestowed upon Charles W. "Bud" Wise III, trustee and former professor of business and economics; Larry Bock, women's and men's volleyball coach from 1977 to 2011 and Athletic Director from 1995-2011; Andrew "Andy" Murray, Elizabeth Evans Baker Professor of Peace Studies, Emeritus; and Anne C. Baker, Trustee Emerita.
Baker and Murray delivered the commencement address.
"Congratulations to all of you students on your achievements culminating in your graduation today from Juniata College. During your time here, you have successfully completed rigorous course work, learned a great deal, made new friends, been exposed to new ideas, and developed new skills," Baker said. "You are now equipped to make meaningful contributions to our country and our democracy—and our country and democracy need you."
Baker's family connection to Juniata College traces back to her grandmother, Jennie Calhoun, who was a member of the Class of 1881. Four of her grandmother's five children, including Baker's father, graduated from Juniata College.
"My connections to Juniata run very deep. From my earliest days, I have heard about and been taught the importance of the values supported, communicated, and taught at Juniata College and how essential they are in creating a civil society," she said. "I know civil society can be defined in different ways, but one personal definition is a society where truth, decency, knowledge, and understanding prevail."
Her parents, John C. Baker '17 and Elizabeth Evans Baker established the Baker Institute for Peace and Conflict Studies at Juniata College. Baker has continued their legacy through her service on the Baker Institute Advisory Board and the Board of Trustees.
Baker honored the vision of her parents and Dr. Andrew Murray, the first Director of the Baker Institute for Peace and Conflict Studies, for their vision.
"These three individuals believed in and articulated the founding purpose of the Peace and Conflict Studies program," said Baker. "We all realize what a dangerous and complicated world we are experiencing right now, and these conflict resolution skills are essential. Going forward, we must remember that, indeed, peace is a human potential, and working and educating for peace is an all-important goal."
Murray voiced his appreciation to Baker for her contributions to the Baker Institute. He shared a personal story from his work in the 1990s, designing a program that brought university professors from regions of conflict around the world to Juniata for an intensive two-week seminar on peacebuilding.
"University instructors, many of whom for circumstances of geography, politics, religion, or history would have been sworn and sometimes bitter enemies, lived, studied, and worked together, after which they made a jointly planned and produced presentation at the United Nations headquarters in New York about the role university curriculum might play in building a world more sophisticated about the problem of humans organizing to kill each other," he said. "Then they went home and put at least one course in their curriculum focusing on those issues."
In 1992, Murray and his family set off to Costa Rica for his first sabbatical after 20 years of working at Juniata College. After two years of intensive work setting up the program, the legal department of the United Nations reversed its initial decision to support the program. Only a resolution from the General Assembly would put plans back on track. Serendipitously, through a series of events sparked by his daughter's chance meeting with a bongo player on the beach (who, as it turns out, was well connected through his father, an international businessman), Murray was able to secure the needed resolution.
"The story may come across as an endorsement for what is often called networking. That would be familiar corn for commencement fodder. But that perception would distress me," he said. "I think of networking as a way of arranging relationships toward some predetermined goal like success, money, or prestige. The story, in my mind, is just the opposite: It is about being open to the simple beauty of friendships, partnerships, and companionships. The story is about opening the spirit to the wonder, the beauty, the pain, the fun of knowing others and being surprised about how those connections through fate, or, perhaps, divine mediation pulls us in directions we wanted to go all along."
Encouraging the graduates to open themselves up to the opportunities within simple beauties, Murray concluded by appealing to two of his favorite thinkers, "the Apostle Paul and Jerry Jeff Walker."
"I sometimes think of life as a journey through a strange land where we grope along between two ways of understanding the human condition: we are 'desperados waiting for a train,' or we are part of a creation which groans in the literal pains of birth to be adopted as children of God," he said. "Those we love and those who love us will help us to find our way. And that is the most precious thing for which we can hope."
Contact April Feagley at feaglea@juniata.edu or (814) 641-3131 for more information.