Juniata Honors Faculty With Distinguished Teaching Awards
(Posted May 23, 2023)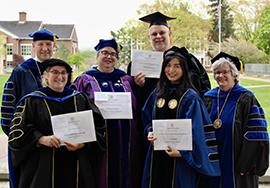 Photo by Maggie Eckroat '26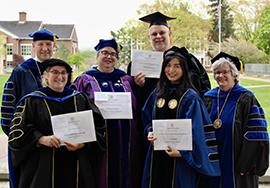 Photo by Maggie Eckroat '26
HUNTINGDON, Pa. -- Four Juniata College faculty members were honored with distinguished teaching and service awards during Tuesday's annual Awards Convocation.
Honored for their work were Elizabeth "Liz" Mansberger, assistant professor of biology; Li Shen, assistant professor of marketing; Kim Roth, professor of statistics and mathematics; and Brad Andrew, professor of economics and international studies.
Andrew was named the 56th recipient of the Beachley Award for Distinguished Teaching and Roth was honored with the 34th annual Beachley Award for Distinguished Academic Service. Shen received the Henry '57 and Joan Gibbel Award for Distinguished Teaching (for faculty members with fewer than six years of service). Mansberger was awarded the second annual Eagle Advising Award.
Award nominations are received from students, faculty, administrators, alumni, and trustees. The selection committee includes the college president, the college provost or senior academic officer, the student government president, and typically the three most recent recipients of the award make the final selections.
The last three Distinguished Teaching Award recipients were the late Vince Buonaccorsi, professor of biology (2022), Xinli Wang, professor and chair of Philosophy (2021), and Russell Shelley, chair of the Department of Music and the Elma Stine Heckler Professor of Music (2020). The last three recipients of the Beachley Award for Academic Service were James Borgardt, William W. Woolford Professor of Physics and chair of the Physics and Engineering Physics department (2022), Deborah Roney, Assistant Professor Emerita of English
(2021), and Robert Miller, Rosenberger Professor of Christian & Religious Studies and Chair of Religious Studies (2020). For the Gibbel Award for Distinguished Performance, the past three recipients were Territa Poole, associate professor of psychology (2022), Katharine Johanesen, associate professor of geology (2021), and Kristin Camenga, associate professor of mathematics (2020). The inaugural Eagle Advising Award winner in 2022 was James Tuten, Dr. Chuck A. and Shirley R. Knox Professor of History.
Andrew came to Juniata in 2001 from Babson College in Massachusetts, where he was a lecturer in economics. He earned his master's degree and Ph.D. in economics at the University of Connecticut and his bachelor's degree from Framingham State University in 1989. At Juniata, Andrew teaches a range of courses in economics and investing and is the faculty overseer for the Eagle Fund, a student-administered investment fund.
Known as a "master of pedagogy" and "facilitator of student-directed learning," Andrew's peers noted his strategic use of small groups and social-informed practices in class. His students described his enthusiasm for economics and investment as palpable and lauded his ability to make complicated subjects accessible. Andrew was recognized for his dedication to student success and daily demonstration of his commitment to experiential education. His impact continues beyond the classroom or time at Juniata, as attested by alumni who voiced their appreciation for his dedication to his students beyond graduation.
Roth came to Juniata College in 2006 from Wheeling Jesuit University, where she was an assistant professor of mathematics. She earned a bachelor's degree in mathematics with a minor in computer science from Oberlin College in 1996. The following year, she studied at the Budapest Semesters in Mathematics, a math program in Budapest, Hungary. Roth completed a Ph.D. in mathematics in 2002 and a master's in applied statistics in 2016, both from Penn State University.
Her colleagues describe her as a stalwart faculty member who is exceptionally generous with her time and talents. Roth is recognized as a fantastic mentor in many capacities, offering constructive advice on teaching, professional development, or life challenges. She serves on numerous campus committees, which includes her "present, available, and unflappable" leadership of Juniata's Center for Scholarship of Teaching & Learning (SoTL) during the spring of 2020.
Shen joined the Juniata faculty in 2017 from Penn State University DuBois Campus, where she was an assistant teaching professor for marketing. She earned her master's degree and Ph.D. in international business/marketing from Southern New Hampshire University.
Her students describe her as a fun, creative, and innovative instructor whose skillful reliance on case studies to emphasize problem solving and storytelling is highly effective. Shen is committed to experiential and international education, working to secure internships, organize field trips, and engage with the local community. She teaches beyond the classroom, offering students advice and mentoring student organizations, including the Chinese club.
Mansberger joined the Biology Department at Juniata in 2013, previously serving as an assistant professor of biochemistry and molecular biology at the Philadelphia College of Osteopathic Medicine and an instructor of biochemistry, microbiology, and molecular biology at Penn State University. She completed a bachelor's degree in biochemistry at the University of Maine and a Ph.D. in molecular and cell biology at Penn State University.
Her faculty colleagues in biology cited the leadership, rooted in a deep knowledge of scheduling and curriculum, Mansberger provides to fellow advisers, as well as her commitment to ensuring her advisees have a successful curricular path to meet their post-graduation goals. As a member of the Health Professions Committee, she often works with her students to plan coursework for multiple semesters at a time and partners with students experiencing unexpected challenges and setbacks.
These annual awards are an opportunity to recognize and appreciate the collective work of faculty and to honor how they advance the mission of the liberal arts. The Gibbel recipient will speak at opening convocation this fall to the first-year class and the Beachley recipient will be the keynote speaker at next year's spring awards convocation. Faculty members are integral in providing an engaging, personalized educational experience, empowering students to develop the skills, knowledge, and values that lead to a fulfilling life of service and ethical leadership in the global community.
Contact April Feagley at feaglea@juniata.edu or (814) 641-3131 for more information.