Celebrating Achievements: Four Juniata Alumni Recognized With Awards
(Posted June 13, 2023)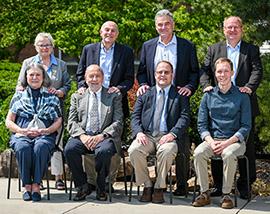 Photo by Nate Thompson '05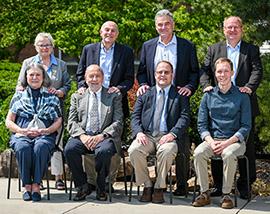 Photo by Nate Thompson '05
HUNTINGDON, Pa. — As Juniata College alumni returned to their alma mater to celebrate an event-filled 2023 Alumni Weekend, four distinguished alumni were recognized for their achievements and contributions with awards on June 10. 
John A. Rummel, Ph.D., '62, of Houston, Texas, earned the College's Alumni Achievement Award. Joseph D. Houck, Ph.D. '08, from Pennsylvania Furnace, Pa., was awarded Juniata's Young Alumni Achievement Award. Mark A. Moyer '92, of Winfield, Pa., received the William E. Swigart Alumni Humanitarian Award. Gayle Wampler Pollock '68, of Lewisburg, Pa., was honored with the Harold B. Brumbaugh Alumni Service Award. 
John A. Rummel received the College's Alumni Achievement Award, which honors those who have distinguished themselves over a period of years and have achieved a pinnacle position in their chosen profession. After graduating from Juniata, he earned a Master of Arts in Environmental Physiology in 1964 at Rice University and a Ph.D. in Human Physiology in 1966 at Baylor College of Medicine. He has reached the pinnacle of his career in science, retiring from the National Aeronautics and Space Administration (NASA) in 2006. He reached the pinnacle of his career in a field exceeding the boundaries of Earth. 
Rummel's 35-year career at NASA spanned much of the history of human spaceflight and all nine lunar missions as part of the Apollo program between 1968 and 1972. From 1966 to 1983, he worked in physiology, life sciences, mission management, and space life science. John worked closely with astronauts prior to and upon return from missions, striving to expand understanding of the effects of weightlessness on the human body, regulation of life-support resources in relation to the work expended by astronauts, and the requirement parameters for in-flight respiratory systems. John was the mission scientist for Spacelab I and II, a collaboration in the early 1970s between NASA and the European Space Research Organisation (ESRO), now the European Space Agency (ESA).
He was founder and president of M.A.P. Systems, Inc. (Management, Analysis, and Planning, PC software utilities), in Houston, Texas, for six years prior to returning to NASA in 1990. Rummel retired in 2006 as Deputy Director of Advanced Planning and Integration. 
Rummel is the author of more than 50 technical papers and publications and has given more than 20 presentations on human spaceflight. He was the responsible technical monitor for more than 30 bioengineering and scientific contracts/studies designed to understand the physiological effects of space travel on the human body. 
He has been recognized with numerous awards for his achievements, including the NASA Medal for Exceptional Scientific Achievement and a U.S. Patent for Inflight Metabolic Measurement Hardware, both in 1974; NASA Outstanding Leadership Medal in 1996; and the prestigious Snoopy Award in 2006, given by astronauts to selected individuals they identify as having significantly provided for their well-being and safety as part of a space flight. 
Joseph D. Houck was awarded the College's Young Alumni Achievement Award, which honors those who have distinguished themselves in their chosen profession during the first 15 years since graduation from Juniata College.
After graduating from Juniata with a bachelor's degree in chemistry with a secondary emphasis in education, Houck earned a Ph.D. in chemistry at the University of Virginia in 2013. During graduate school, he worked with elementary school students as a founding member and President of a student-led outreach club, Chemistry Learning through Experiments and Demonstrations (LEAD). He visited Charlottesville-area schools and science museums through the organization to teach hands-on science activities. After being awarded a Dissertation-Year Fellowship and Outstanding Graduate Teaching Assistant Award from the Department of Chemistry, he accepted a competitive internship in the Medicinal Chemistry Group at Amgen. Houck continued his work with elementary school students by volunteering at a local Boys and Girls Club running a weekly STEM afterschool program. He and his undergraduate students brought engaging activities to create a spark for science in these students from underrepresented backgrounds.
Houck pursued his passion for teaching as a lecturer at the University of Maryland (UMD), College Park, Md., in the Department of Chemistry and Biochemistry and the Office of Extended Studies, where he taught organic and general chemistry for three years. For his efforts in supporting student success, he was selected as an Elevate Fellow in 2015 to redesign the General Chemistry II laboratory course. His teaching was also recognized by the UMD College of Computer, Mathematical, and Natural Sciences when he was awarded the Dean's Outstanding Lecturer Award. 
He now serves as an associate teaching professor within the Department of Chemistry at the Pennsylvania State University, where he is responsible for teaching large lecture and laboratory classes in the introductory chemistry sequence. Houck has been awarded a Teaching Innovation Grant to implement specifications grading in organic chemistry and to incorporate biological content. 
Houck has been honored at the Pennsylvania State University with the 2021 Priestly Teaching Prize in the Department of Chemistry and the 2022 C.I. Noll Award for Teaching Excellence in the Eberly College of Science. Houck received the Teaching Innovation Award in the Eberly College of Science in 2022. 
Houck volunteers as a college mentor for the United States National Chemistry Olympiad (USNCO) based in Washington, D.C. In this capacity, he plans lectures, labs, and both practical and theoretical exams to select the top four students to represent the United States at the International Chemistry Olympiad. He also volunteers as a certified professional development instructor for the Chemical Educational Foundation, training elementary and middle school teachers on teaching chemistry in their classrooms. 
Mark A. Moyer was presented with the William E. Swigart Alumni Humanitarian Award, which honors those who have improved the lives of others through personal sacrifice and have exercised significant leadership through vocation or avocation. Moyer was presented with the award for his selfless service to his community and beyond through his commitment to providing diabetes education and growing social support programs for people living with diabetes. 
After graduating from Juniata, Moyer earned a master's degree in business administration from the Katz Graduate School of Business, University of Pittsburgh, and a master's degree in health administration from the Graduate School of Public Health and the Katz Graduate School of Business, University of Pittsburgh.  
Moyer is the executive director of Setebaid Services, Inc., a not-for-profit organization based in Winfield, Pa., with the mission of providing the best diabetes educational programs available. Under his leadership, the organization has grown from serving 80 families to more than 1,700 families. As part of the organization's goal, Setebaid Services operates diabetes summer camps, including Camp Setebaid, throughout Pennsylvania. At these sites, Moyer helps to offer a normal camp experience for children with diabetes. Furthering his involvement in improving the lives of children, he works collaboratively with six major medical partners, including academic medical centers and the top pediatric diabetes center in the world. 
Moyer began his career as a health system specialist at the Baltimore Medical Center, a teaching hospital affiliated with the University of Maryland Medical System. While there, he assisted in planning a forum representing seven states held in response to a request from the White House Conference on Aging Task Force. He served as a corporate planning director with Albright Care Services in Lewisburg, Pa., where he coordinated a three-phase $64 million master plan for facilities on three campuses. Moyer was appointed as administrator of the Pennsylvania site of The Baron Center for Diabetes Education, Inc. His responsibilities included annually providing diabetes education to more than 400 patients, as well as operating youth programs and camps for young people living with Type 1 Diabetes. Before undertaking leadership of Setebaid Services, Inc., Moyer worked as a community health consultant with ACTION Health in Lewisburg, Pa., where he was committed to improving the health status and quality of life of individuals residing in a five-county area of the state. 
Moyer is a life member and past president of the Diabetes Education and Camping Association (DECA), director on the board of the Kiwanis Club of Buffalo Valley AM in Lewisburg, Pa., and chair of the Finance Council of Sacred Heart Church in Lewisburg, Pa. 
He has been recognized with the Donald S. McClain Award from the American Camp Association for Leadership, Courage, and Service in 2016 and the USDA "Outstanding Champion" Award for teaching healthy eating in 2004. 
Gayle Wampler Pollock was presented with the Harold B. Brumbaugh Alumni Service Award, which honors those who have distinguished themselves above others as having given of their time to projects or functions of an elected or appointed position for the advancement of Juniata College. Pollock received this award in recognition of her selfless and unwavering service to her alma mater with contagious energy and loyalty.
After working several years in the retail fashion industry, Pollock followed an inner calling to a life of service to others and began her career at Juniata College in the Admissions Office. For 15 years, Pollock promoted the value of a Juniata education and expanded the student body through her recruitment efforts, ultimately serving as Dean of Admissions. Her enthusiasm and outreach to prospective students drew many of them to Juniata. 
Pollock's subsequent work in the field pulled her away from Huntingdon. However, through it all, she maintained close ties to Juniata. During the 1970s and again in the early-2000s, Pollock served as a member of the Alumni Council. From 2005-2021, she served on the Board of Trustees, the first three years of which were in the role of Alumni Trustee. Throughout these 16 years on the Board, she held various leadership roles, serving on the Executive Committee, Committee for Trustees, and chairing the Enrollment Committee. Pollock was also a member of the Presidential Search Committee that selected Juniata's 12th president, James A. Troha, Ph.D. In 2021, Pollock transitioned into the role of Trustee Emeritus.
Since the late-1990s, Pollock has donated her time and expertise in college admissions through gratis enrollment consulting. This included many trips to Huntingdon as a member of an on-campus Enrollment Committee. During this period, Pollock also served as a Class Fund Agent for the Class of 1968. She generously filled this role alone for several years until she recruited a small team of classmates to serve with her as her consulting work for the College increased.
Further demonstrating her commitment to Juniata, Pollock has shared her love of building connections. She worked alongside classmates on the Class of 1968 Reunion Committee for many years, including serving on the Social Committee for their 50th Reunion in 2018. Pollock has also warmly welcomed Juniatians into her home and other venues as the host of regional events and dinners. 
Contact April Feagley at feaglea@juniata.edu or (814) 641-3131 for more information.