Juniata College to Welcome One of Largest Classes in History
(Posted August 18, 2023)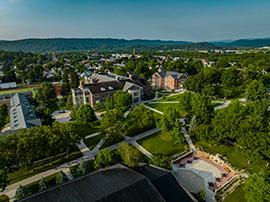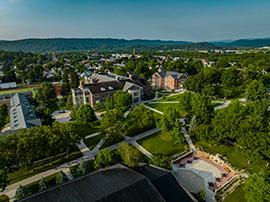 HUNTINGDON, Pa.— Juniata College is preparing to welcome this fall its third largest class of undergraduate students and the largest-ever class of graduate students.
"I am so proud of our enrollment team, faculty, staff, and coaches for their amazing work this past year in recruiting this strong class," said Juniata College President James A. Troha. "It was truly a team effort. I can't wait to welcome these students to our community."
Based on current enrollment projections, Juniata anticipates more than 420 incoming undergraduate students and over 40 incoming graduate students (23 of whom began this summer) – an increase of 39% over last year. These new students come from 23 states and 13 countries, with a 60% increase in local students from Central Pennsylvania.
Vice President for Enrollment Jason Moran attributes this enrollment increase to continued alumni donor support for student scholarships, partnerships with domestic and global organizations that support underrepresented students, and strong recruitment in both athletics and the nationally ranked Mock Trial team. The addition of new academic programs over the past four years, including criminal justice, environmental engineering, exercise science, a 3+1 accelerated dual-degree program, and master's degrees in bioinformatics and data science, has also contributed enrollment success.
"We are very intentional in our work to ensure that we have a contemporary mix of academic programs," said Provost Lauren Bowen, Juniata's chief academic officer. "I am so pleased that so many students have responded positively to our recent additions and to the good work of this faculty and the compelling stories that they tell about the power of a Juniata education."
The Class of 2027 boasts an average high school grade point average of 3.72. It also features an increase in international students, resulting in the College's largest international student population. In turn, there were increases in domestic underrepresented students, referring to students who are traditionally underrepresented in education because of their race, ethnicity, or education.
The 2024 application is now open for both undergraduate and graduate admission. Please visit www.juniata.edu for more information.
Contact April Feagley at feaglea@juniata.edu or (814) 641-3131 for more information.