Reimagining the Guitar: Juniata Presents Artist Series to Feature SEI
(Posted November 16, 2023)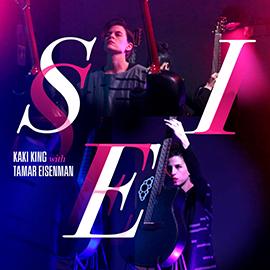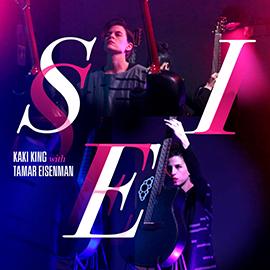 HUNTINGDON, Pa. – Musician and composer Kaki King will present SEI with blues-folk-rock guitarist Tamar Eisenman Thursday, November 30, at 7:30 p.m. Open to the public, this performance will take place at the Halbritter Center for the Performing Arts on the campus of Juniata College.  
This performance of SEI, which means "six" in Italian, is part of the Juniata Presents performing artists series. Considered one of the world's greatest living guitarists, King created SEI as a full-length performance piece in which guitar movement takes over the entire stage. Within SEI, King and Eisenman become dancers, coordinating their whole bodies to perform the rigors of choreography and composition. Multiple guitars on stands are spaced out strategically in a design allowing for music and movement to be created between them. SEI reveals the relationship between the players musically and physically, a progression of distance and space—like the progression between the six individual strings of the guitar.   
"Juniata is committed to bringing campus and local communities together through the shared experience of world-class performances. Whether it's a kind of music you already love or an art form you've never seen, the arts enhance our lives by strengthening existing connections and creating new ones," said Kathryn Blake, director of the Juniata College Museum of Art and Juniata Presents coordinator. "We have so enjoyed seeing audiences excited and surprised and moved by the varied performances we've brought to Huntingdon. SEI promises to spark those responses with the musicians' imaginative and innovative approach." 
Rolling Stone has hailed King as "a genre unto herself." She has released nine albums and toured extensively, presenting at the Kennedy Center, the Museum of Modern Art, the Las Angeles County Museum of Art, the Met, and the Smithsonian Design Museum. King created music for numerous film and television soundtracks, including "August Rush" and "Into the Wild," for which she received a Golden Globe nomination for Best Original Score.   
Eisenman has recorded and performed with Danny Sanderson, Asaf Avidan, Miki Gavrielov, and David Broza, in addition to King. She is mainly known for her acoustic guitar and handpicking electric guitar sound integrated with her bluesy pop songwriting.   
For tickets or to learn more about Juniata Presents events, visit www.juniatapresents.com. General admissions tickets for single performances are $20, except where otherwise noted. Single-show tickets for seniors over age 65 and children ages 18 and under are $12. Juniata College students are admitted free with a student ID.    
Contact April Feagley at feaglea@juniata.edu or (814) 641-3131 for more information.