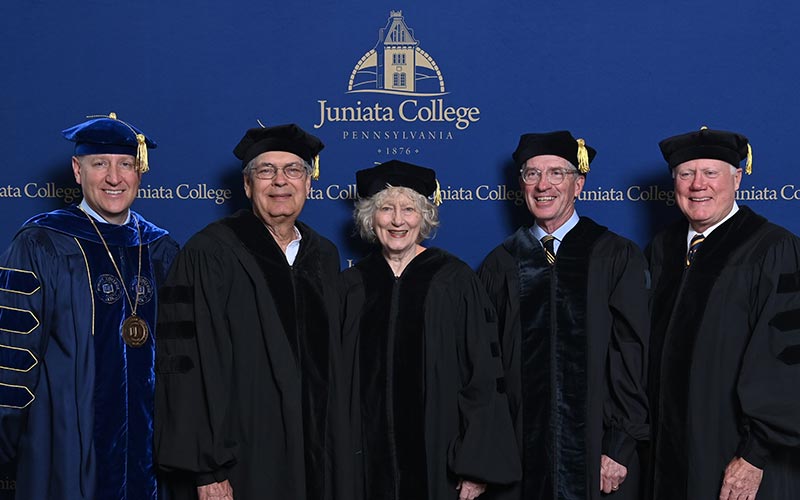 Commencement 2023
Honorary Degree Recipients M. Andrew Murray, Anne C. Baker, Lawrence R. Bock, Charles W. Wise
Key:
LHD - Doctor of Humane Letters
LLD - Doctor of Laws
DD - Doctor of Divinity
Ed. D. - Doctor of Education
DSc - Doctor of Science
2023
Baker, Anne C., LHD (Commencement)
Bock, Lawrence R., LHD (Commencement)
Wise, Charles W., LHD (Commencement)
Murray, M. Andrew, LHD (Commencement)
2022
Shah, Parisha P. '01, LHD (Commencement)
2021
Nathan, Howard M. '75, LHD (Commencement)
2020
Janz, Rainer, LHD (Event)
2019
Kaylor, Harriet Beahm, LHD (Commencement)
Trim, Michael A. '76, LHD (Commencement)
2018
Taylor, Maurice C. '72, LHD (Commencement)
2017
Lord, Kristin M., LHD (Commencement)
Smith Wetzel, Miriam '52, LHD (Commencement)
2016
Glaeser, Carl D. '77, LHD (Commencement)
Glaeser, Nancy, N. '76, LHD (Commencement)
Sparks, Jack L. (Event)
Sparks, Carolyn A. (Event)
Switzer, Jo Young, LHD (Lecture)
2015
Figura, Raymond, LHD (Commencement)
Lakso, James J., LHD (Commencement)
Schwemmlein, Christoph '84, LHD (Commencement)
2014
Kuriyan, John '81, LHD (Commencement)
2013
Kepple, Thomas R., LHD (Commencement)
Lifton, Robert J., LHD (Lecture)
2012
Gibbel, Henry H. '57, LHD
Madara, James L. '71, LHD
Mclay, James K., LHD
Statton, Timothy D. '72, LHD
2011
Baugher, Beulah K., LHD
Blechschmidt, George F. '54, LHD
Goodman, David K. Jr. '74, LHD (Commencement)
Wolf, Maryanne, LHD (Commencement)
2010
Michel, Harriet R. '65, LHD (Commencement)
Long, Theodore E., LHD
Morgan, Stephen C., LHD
Stone, Phillip C., LHD
2009
Marzio, Peter C. '65, LHD (Commencement)
von Liebig, Suzanne, LHD
2008
Klag, Michael J., LHD
Sill, Eileen G., LHD (Commencement)
Johnston, John Bennett, LHD (Lecture Series - Oct. 15, 2008)
2007
Kinnell, Galway, LHD (Lecture Series - Sep. 20, 2007)
Mitchell, Donald J., LHD (Commencement)
Walker, Amb. Edward S. Jr., LHD (Commencement)
Wertz, Ronald W., LHD (Commencement)
2006
Horn, Philip, LHD (Commencement)
Halbritter, Barry J., LHD (Commencement)
2005
King, Yolanda, LHD (Commencement)
Cherry, Elizabeth Ellis, LHD (Commencement)
Kunert, Günter, LHD (Germany - May 23, 2005)
2004
Kempowski, Walter, LHD (Germany Apr. 2004)
Churchill, John (Speaker)
Lewis, John, LHD (Will Judy Lecture - Oct. 3, 2004)
2003
Durnbaugh, Donald F., LHD (Commencement)
Ikenberry, Stanley O., LHD (Commencement)
Nair, N. Unnikrishnan, LHD (Commencement)
Robinson, Mary, LHD (Will Judy Lecture - Sep. 23, 2003)
Liu, Dimon, LHD (Speaker Series - Oct. 22, 2003)
2002
Dale, John A., LHD
Lepoutre, Gerard F., LHD
Stottlemyer, Quayton R., LHD
2001
Davis, Bruce, LHD (Commencement)
Doyle, Esther, LHD (Commencement)
Heckler, Elma Stein, LHD (May Day Breakfast)
Kaylor, Earl C. Jr., LHD (Commencement)
Metz, Samuel F., LHD (Commencement)
2000
1999
Phillips, William D., DSc
von Liebig, William J., DSc
1998
Malloy, Edwin A., LHD
Moyer, Donald D., LHD
1997
Blanck, Ronald R. Lt. General, LHD
Sunderland, Klare S., LLD
1996
Winter, Paul, LHD
Phornprapha, Chumpol, Ed.D.
1995
1994
1993
Davinic, Prvoslav, LHD
Hayes, Samuel E. Jr., LLD
1992
1991
Yevtushenko, Yevgeny, LHD
1990
Hesselbein, Frances, LLD
Ellis, David W., LHD
1989
Baker, Elizabeth Evans, LHD (at Karen Sandler's Convocation/Inauguration as V.P. for Academic Affairs)
Lin, Maya, LHD
Ellis, Charles C., (no degree, citation only; see 1981)
1988
1987
Boyer, Ernest (Dr.), LHD
Brouwer, Arie R., DD
1986
Meyers, Wayne M. (Dr.) '47, DSc
1985
Jordan, Bryce, LLD
Burkholder, W. Clay '33, LLD
1984
Oller, Jack E. Litt. D. '23
Zigler, M. Robert, LHD
1983
Detwiler, Dale William, LLD
Knox, Charles Robert, LLD
Pearson, Paul Guy, LLD
1982
Embree, Ainslie Thomas, LLD
Rosenberger, Wellington Clemens, DD
1981
Ellis, Charles Calver, LLD
Good, Joseph Robert, LLD
West, Jessamyn, D. Lit.
1980
Eddy, Edward Danforth Jr., LHD
Elits, Herman Frederick, LHD
1979
1978
Henry, Curran Jewett, LLD
Neff, Robert Wilbur, DD
Myerson, Martin, LLD
1976
Ellis, Elizabeth Wertz, LHD
Groff, Warren Frederick, DD
Helman, Alred Blair, LLD
Rhoads, James Berton, LHD
Swigart, John W., LLD
1975
Brumbaugh, Harold B., LHD
McPherson, Mary Patterson, LLD
1974
Brumbaugh, G. Edwin, LHD
Hassler, William W., LLD
1973
Oswald, John Wieland, LHD
1972
Cordier, Andrew Wellington, LHD
Fegan, William Samuel, LLD
Rosenberger, Lester Markley, LLD
1971
Day, Raymond Richard, LLD
Gray, Jesse Glenn, LLD
Rossell, Glenora Edward, LLD
1970
1969
Baker, Robert C., LLD
Beachley, Donovan R., LLD
Kennedy, Edwin L., LHD
Larson, Roy E., LLD
Rabinowitz, Aaron, LLD
1967
Dean, Vera Micheles, LLD
Rung, Albert Mattern, MA
1967 Founders Day
1966 Dedication of Brumbaugh Science Center
Bronk, Detlev W., LLD
Hahn, Erwin L., DSc
Hamer, Walter J., DSc
Hill, Julian W., LLD
Myers, Jack E., DSc
1966
1965
Malott, Deane Waldo, LLD
Rowe, Earl Nelson, DD
Woodworth, Laurence Neal, LLD
1964
Beeghly, Charles Milton, LLD
Stauffer, John Nissley, LLD
1961
Kline, Joseph Virtue, LLD
Lloyd, Robert McAllister, LLD
Whittaker, Charles Elwin, LLD
1960
Brown, Kenneth Irving, LLD
1959
Nyquist, Ewald Berger, LLD
1958 Founders Day (Apr. 17, 1958)
Reinhart, Frank Walter, ScD
1958
Long, W. Newton, DD
MacCarrol, Joseph, DD
1957
Boeschenstein, Harold, LLD
Jordan, Harvey Bryant, LLD
1955
Croyle, Robert Raymond, DD
Ellis, John Dwight, DD
Garner, Thomas Donald, DD
Harshbarger, Luther Henry, DD
Hopkins, Thomas James, DD
1952
Steese, Charles M., LHD
Wyland, Mary Jane, LLD
1951 Founders Day
Berry, John, LLD
Montgomery, John B., ScD
Morse, Kenneth I., Litt. D.
Smith, Harold T., DD
1949
Brumbaugh, Norman J., ScD
Robinson, Paul M., DD
1948 September Convocation
1948
Herring, Herbert James, LLD
Hottel, Althea Kratz, LLD
1946
Detwiler, Edgar M., DD
Statler, Foster B., DD
1943
Baker, John Calhoun, LLD
Livengood, William Samuel Jr., LLD
Schwalm, Vernon Franklin, LLD
Tolley, William Pearson, LLD
1941
Donham, Wallace Brett, LLD
1940
Metzger, Irvin D., DSc
Mohler, Henry K., DSc
1938
Brougher, Mahlon J., DD
Kephart, John William, LLD
Murphy, Ross Dale, DD
1937
Bailey, Thomas F., LLD
Slep, Daniel N., LLD
1936
1935
Swigart, William Joseph, DD
Wagstaff, Blanche Shoemaker, MA
Walk, George Everett, LLD
1934
Broome, Edwin Cornelius, LLD
Graham, Ben George, LLD
Haas, Francis Buchman, LLD
Waller, David Jewett, LLD
1932 Founders Day (Apr. 15, 1932)
Rule, James Noble, Litt. D.
1931 Commencement
Green, Francis Harvey, LLD
Taylor, Joseph Deems, Litt. D.
1931 (Inauguration of Dr. C.C. Ellis - Oct. 23, 1920)
Brumbaugh, I Harvey, LHD
Graves, Frank Pierrepont, LLD
1930
1929
Edmonds, Franklin Spencer, LLD
Woodin, William Hartman, LLD
1928
Fisher, John Stuchell, LLD
Stites, Fletcher, LLD
Wirt, George Herman, MS
1927
Roberts, Owen Josephus, LLD
1926 (50th Anniversary Celebration - Apr. 17, 1926)
Brumbaugh, Gaius Marcus, Litt. D.
Daniels, Josephus, LLD
Heinz, Howard, LLD
Johnson, Albert Williams, LLD
Schwab, Charles M., LLD
von Moschzisker, Robert, LLD
Wieand, Albert Cassel, DD
1925 Commencement
Ainey, William D.B., LLD
Barton, Bruce, Litt. D.
Illick, Joseph S., MS
White, Holman, LLD
1925 (M.G. Brumbaugh Inauguration - Jan. 29, 1925)
Bowman, Paul Haynes, DD
Collins, Emerson, LLD
Ellis, Charles Calvert, DD
Henderson, George, LLD
Miller, Jacob J., LLD
Penniman, Josiah Harmar, LLD
Stackpole, Edward James, LLD
1924
Darlington, Thomas, Litt. D.
Emmert, Jesse Benedict, DD
Grier, Alvin Ruckman, MA
1922
1921
Langdon, Chester J. (Honorary Alumnus)
1920
Speer, Robert Elliot, Litt. D.
1919
Cummings, J. Howell, LLD
Kolb, Louis J., LLD
Orlady, George Boal, LLD
Sims, William S., LLD
1918
1917
Bogle, Sara Comly Norris, MA
Moherman, Tully S., DD
Shoemaker, Henry Wharton, Litt. D.
1911
Baker, Frank Kline, DD
Blough, Jacob M., DD
Holsopple, Frank F., MA
Johnson, Carmon C., MA
Kurtz, Daniel Webster, DD
1905
Haines, Amos H., DD
Myers, Timothy Tobias, DD
1904
1898
Brumbaugh, Gaius Marcus, MS