All Juniata graduates are considered members of the Alumni Association and can take advantage of the following services and resources. There are no annual dues or fees. Just be sure to update your information so you can stay connected with your alma mater and the entire Juniata community.
The Juniata Network
The proud and loyal Juniata network is made up of more than 16,000 living alumni around the world, current students and their families, and faculty and staff, all of whom share a special bond with our beloved College and each other. Take advantage of that network to help you in finding a job, making social and professional connections, and growing roots in a new community.
Alumni Events
A great way to stay connected is to attend events sponsored by the College, regional clubs, or alumni volunteers. Come back to campus for Alumni Weekend or Homecoming & Family Weekend or another on-campus event. Participate in one of the many events in locations around the country and overseas, including happy hours, picnics, sporting events, and community service. For a complete schedule of upcoming events, visit our calendar of events.
Alumni Career Services
Our Career Development professionals offer help to all alumni through career and graduate school advice, as well as training in resume writing, interview skills, and job search techniques.
Enrolling at Juniata
Do you have a child, grandchild, or other family member or friend who is interested in attending Juniata? Contact the helpful team in the Admission Office for assistance with scheduling a campus visit, submitting an application, or answering other questions about the process.
Don't forget to make a Juniata Community Scholarship referral for your prospective student. If your recruit enrolls at Juniata, he or she will receive a $1000 scholarship per year for four years in your name--at no cost to you, in recognition of your help in the recruiting process.
Transcripts
Visit the Registrar's Office website for information/instructions on requesting your Juniata College transcript for job or graduate school applications.
Replacement Diplomas
If your diploma has been lost or damaged, a replacement diploma may be obtained by making a written request to the Registrar's Office. The fee is $35.00 if mailed to a U.S. address. Click here for more information.
Email and Network Access
When approaching graduation, students will be given the opportunity to set up email forwarding from their Juniata student account to a non-Juniata account of your choice for a period of one year. On July 1st in the year of your graduation, your access to all Juniata network resources will be discontinued and your emails will begin forwarding to the destination you specified. For assistance, contact the Help Desk by email or by phone at 814-641-3619.
When visiting campus, alumni may use our JC-GUEST wi-fi for their mobile devices. Stop by the Alumni Office for the current login information.
Juniata License Plates
If you live in Pennsylvania or Maryland, show off your JC pride with an official Juniata license plate!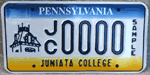 To order your PA plate, print an application, complete it and send a one-time- only payment of $28.00 directly to the Department of Transportation. This fee is separate from the annual registration renewal fee.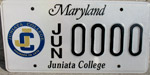 To order your MD plate, print an application, complete it and send a one- time-only payment of $25.00 directly to the Motor Vehicle Administration. This fee is separate from the annual registration renewal fee.
Bookstore
Show your Juniata pride with a variety of merchandise available from the Juniata Bookstore or the Juniata College Athletics spirit store.
Yearbooks
If you missed buying a Juniata College yearbook while you were a student or if you have lost yours in the years since graduation, the Alumni Office is giving you the opportunity to recapture your precious JC memories. Most yearbooks from 1921-2007 are available for a $25 donation plus $5 for shipping and handling. To order your yearbook, contact the Alumni Office by e-mail or call 814-641-3443.
Alma Mater
Looking for music for Juniata's Alma Mater? Print a copy.