Juniata College is very concerned about incidents of gender-based or sexual misconduct and acknowledges that while each person experiences and responds in differing ways, there are a variety of formal and informal options for support. Please review the information pertaining to your options for support, assistance, and reporting so that you can make an informed decision based on your personal needs. Your needs may change over time, so please also know that you may choose to utilize different forms of response at different times.
If you have experienced any act of sexual misconduct, our first concern is for your safety and well-being. Juniata offers on-campus resources to assist students who may have been affected by sexual violence or sexual misconduct. Additional services are available off-campus through the local community. Individuals are encouraged to utilize any and all on-campus and community resources that may be of assistance to them.
There are many routes that one can choose in regards to on-campus reporting. Click on the flowchart below to see those options in detail. It is important to note that Juniata College advocates for the individual's needs based on circumstance, and we are aware that on-campus reporting may not be a viable choice in some instances. The chart does list several off-campus resources, and as always, individuals are encouraged to select the action or actions that are right for them.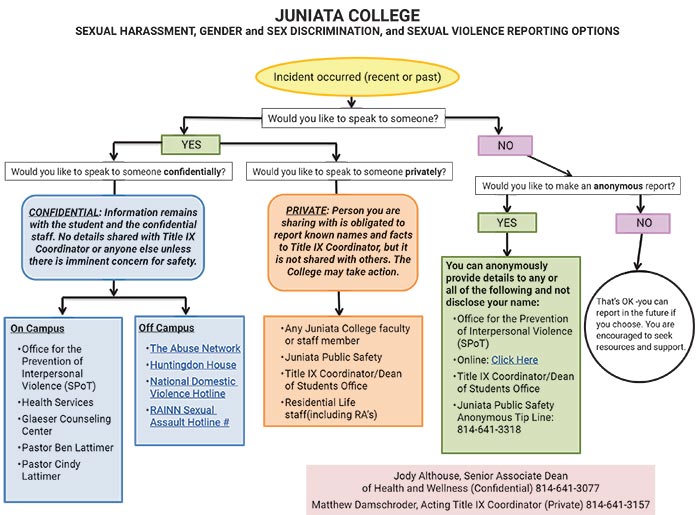 Deciding to get help is a personal decision that belongs to the survivor alone. A person who has been sexually assaulted has already endured a lot and often the thought of talking to someone or seeking medical attention can be overwhelming. It is important to keep in mind however, that there are some recommended actions a survivor can take that can be beneficial in the future:
Believe in yourself. Know that when you are forced to have any form of sexual contact without your consent, it is not your fault.
Find a safe environment—anywhere away from the attacker. Contact someone immediately. Go to this person's house or have them go to where you are. Ask someone you trust to stay with you for support.
Seek medical attention immediately. Do not change your clothes, bathe or brush your teeth. If possible, refrain from using the bathroom. This can help to preserve evidence if you choose to make a police report. Going to the hospital does not mean you have to notify the police. It is for your medical safety to be examined. Even with no visible physical injuries, it is important to determine if internal injuries were sustained (such as tearing or bruising), and to weigh the risks of sexually transmitted diseases and pregnancy. Preventative medication can be provided if the circumstances are appropriate.
In order to preserve any forensic evidence, ask the nurse, doctor and/or advocate to explain what the forensic rape kit is, how it is performed, what the process is once it is completed and the benefits of the procedure. If there was no penetration, you may still have the kit completed to obtain evidence elsewhere on your body.
If you suspect you may have been drugged, report immediately to hospital staff. The window period to collect evidence of drugs (either through a urine sample or blood) is extremely short. The sample will be analyzed at a forensic lab.
If you are able to, write down all the details you can recall about the assault and the perpetrator. Or ask a friend you can confide in to record this information for you.
Call the National Sexual Assault Hotline, operated by RAINN, for free, confidential counseling, 24 hours a day: 1-800-656-HOPE. When you call, you will be connected to your local rape crisis center. An advocate may be available to meet you at the hospital.
Report the sexual assault to local law enforcement authorities, even if the assault occurred in another district. An advocate can provide the information you'll need to understand the criminal justice system process.
Report the sexual assault to campus authorities understanding privacy limits for confidential or mandatory reporters.
To make an online confidential or anonymous report of sexual or gender-based misconduct, click here.
Specific policies, reporting procedures and processes have been developed to provide response and support when incidents of sexual misconduct occur. These procedures are detailed in the following policies:
Sexual Assault and Sexual Misconduct Policy:
Click to view Juniata College's Sexual Assualt and Sexual Misconduct Policy.
Reporting at Juniata
Make a report to the Dean of Students Office: Founders Hall Second Floor, 814-641-3150. The Dean of Students staff are:

Matthew Damschroder, Vice President for Student Life and Dean of Students, Acting Title IX Coordinator
Jody Althouse, Senior Associate Dean of Health and Wellness
Greg Curley, Athletic Director
Jesse Leonard, Assistant Dean of Students
Erin Paschal, Assistant Dean of Students-Campus Life

Contact Juniata College Public Safety at 814-641-3636.
Share your experience with a member of the Residential Life Staff.
To make an online confidential or anonymous report of sexual or gender-based misconduct, click here.
Reporting in Huntingdon
Huntingdon Borough Police Department 814-643-3960
The Abuse Network (for sexual violence) for advocacy and support 814-506-8234
Huntingdon House (for dating violence) 814-643-1190
Confidential vs. Private
All efforts will be made to preserve your privacy; this means that only people who need to know about the incident will be given your name and other limited information as necessary. This is different from confidentiality. Confidentiality means that no information can be disclosed and your support person cannot talk and work with others on your behalf.
Confidential Reporters
Professional counselors through Juniata Counseling Services, Campus Ministries and the Chaplain, when acting in an official capacity, and the Director of the Office for the Prevention of Interpersonal Violence are not considered to be campus security authorities and are not required to report crimes for inclusion into the annual disclosure of crime statistics. As a matter of policy, these counselors are encouraged, if and when they deem it appropriate, to inform persons being counseled of the procedures to report crimes on a voluntary basis for inclusion into the annual crime statistics.
Mandatory Reporters
In accordance with Title IX requirements, all other College employees are considered "mandatory reporters" for the purpose of reporting sexual assault and misconduct. Furthermore, the Clery act allows for a designation of "Campus Security Advisors" which include residence life staff, security staff, coaching and other athletics staff, Dean of Students office staff, human resources staff and the three Title IX deputies. All mandatory reports must report concerns to a Title IX officer who is also a "campus security advisor."
Recognize that healing from sexual assualt or any trauma takes time.
Allow yourself the time you will need to recover emotionally, mentally, and physically. There is no set time frame for your healing process.
How to Help a Friend
Say something. Lend a listening ear. Show that you care and are willing to listen. Do not force the issue but allow the individual to confide in you at his/her own pace. Never blame the person for what is happening or underestimate his/her fear of potential danger. Focus on supporting the individual's right to make his/her own decisions.
Guide survivors to campus and community resources. Let him/her know they are not alone and people are available to help. Encourage him/her to seek sexual violence advocates and assure them that information will be kept confidential in most cases.
Do not ever judge survivors. Tell the person you are sorry they have been hurt. No matter his/her behavior prior to the assault, they are not responsible--the perpetrator is. No one deserves to be assaulted.
Remind survivors that their feelings are normal. They may feel "crazy". Assure survivors they are not "crazy" and any feeling or reaction is normal.
Validate survivors in their feelings. Continue to do so even if they feel everything is terrible and even if you feel frustrated with their recovery.
Focus on his/her/their strengths. The individual has probably continually been told by the abusive person that they are a bad person, a bad student, or a bad friend. They may believe they cannot do anything right and that there really is something wrong with them.
Give emotional support and help in recognizing personal strengths and skills. Emphasize that he/she/they deserves a life that is free from violence.
Find your own support. You cannot support someone else if you are not supported. However, do not try to receive that support from the survivor.