Juniata is more than an institution. For many students, this place becomes home and campus becomes community.
And, in early March 2020, when the spread of the novel coronavirus, COVID-19, began to impact the world surrounding Juniata, everyone on campus felt the effects—none so much as those unable to return to their families.
"More than half of our (international) students were able to return home," said Kati Csoman, dean of international education. "Some went to stay with family and friends throughout the United States. There are many who are staying with their Juniata roommates and friends."
Prior to the global outbreak, approximately 120 students who identified as having their primary residence abroad lived on campus. Faculty and staff worked tirelessly to help students navigate a barrage of confusing information about flight cancelations, quarantines, and closed borders.
"Many, including those returning to China, were able to make it home without much interruption of flights," Kati said. "We tried to work with each and every student to understand their situation and what would be in their best interest for their situation."
For some, tremendous obstacles left them wondering what their immediate future would hold.
"We needed to be able to move students forward. It was in their best interest," Kati said. "We want them to be safe and we want them to be in a place with access to resources they need."
That's where Juniata's extended family came in.
"On the first day of news of the college moving to remote instruction, Kayo Nishiguchi Montgomery '01, '04 reached out to me on Facebook with an offer to help. She wanted to see if she and her family could offer a place to stay for an international student," said Kati. "They live in the Chicago suburbs and, with social distancing, she was working from home and had a guest room available. It was really touching that they offered to do this."
Kayo was made aware of the measures taking place on campus through an email sent to alumni.
"I immediately thought about international students who may not want to leave the U.S. for fear of not being able to travel freely between countries with travel restrictions," said Kayo. "I wanted to offer to host a student, although we live in a different state."
Soon, Kayo, her husband, Damian Montgomery, and their two daughters, welcomed Kazuki Makino, a junior from Japan, into their home.
"It's a wonderful outreach," Kati said, adding that similar offers were extended by Juniata community members including Crys (Lemke) Gearhart '02, her husband, Gale, and her mother, who have served as a friendship family for many years, and Lou Ann Gray, the parent of two Juniata graduates, Russell '12 and Daniel Gray '14, and Dr. Lisa (Shaffer) Gallagher '02. "Lou Ann also offered to bring food and provide transportation to the students who stayed on campus."
Lou Ann is a regular visitor to Career Day on campus each year and has hired alumni. During a conversation with David Meadows '98, director of alumni relations and stewardship, concern for international students in light of the growing global crisis was discussed.
"He stated they may not be able to make it home and planned to reach out to alumni to see about their ability to house students," said Lou Ann. "It was at that time, I mentioned to him that he should consider reaching out to parents of alumni as we are the ones with empty bedrooms."
Her desire to help was motivated by her appreciation for the staff, faculty, students, and alumni, and the lifelong friendships she and her sons have established at the College, as well as by her own family's history.
"Juniata is not just about the excellent academic education they provide to students, it's about educating the whole individual in the ways of life and the world, teaching them to pay it forward in all aspects of their life," Lou Ann said. "I am the second generation in this country on my mother's side, from Sicily, Italy. As a young child, I was exposed to a number of relatives and friends who immigrated from Italy to America and needed sponsors."
Lou Ann's grandparents always provided those relatives and friends with a place to stay.
Kayo, too, had first-hand experience that prompted her to offer her home.
"As I was an international student coming to the U.S. from Japan by myself and participated in exchange programs, I know how difficult it is to deal with a situation you have no control over," she said. "I had a great roommate and her family, and many friends who helped me through difficult situations. I know the importance of support."
She added that this is a way for her to pay it forward.
"It's remarkable that these families would reach out to students in this way," Kati said. "That kind of outreach is just amazing. These are good, good people. It's touching. There has been an outpouring of support to make sure students were safe."
About six students remain on campus due to varying circumstances and have been moved into apartment-style living quarters to provide safety and privacy. Through Unity House on campus, a coordinated effort was launched to provide those with gift cards to a grocery store within walking distance as well as working with local drivers for transportation.
"We as an institution have a responsibility to help them and not leave them on their own," said Kati. "We have had weekly Zoom calls with the students to check in and make sure they are getting what they need."
Throughout this tumultuous time, the people of Juniata have striven to embody the words of civil rights activist Coretta Scott King, "The greatness of a community is most accurately measured by the compassionate actions of its members."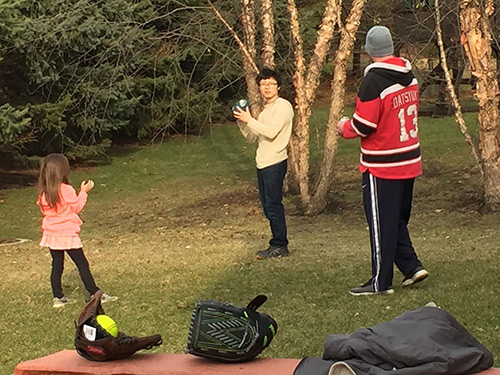 Kazuki Makino, a junior from Japan, was welcomed into the home of Kayo Nishiguchi Montgomery '01, '04, her husband, Damian Montgomery, and their two daughters, during the COVID-19 global pandemic. Photo courtesy of Kayo Nishiguchi Montgomery '03, '04
You're invited to join us in sharing how you, or another Juniatian, are remaining #JuniataStrong in these difficult times.
Submit your story at https://fal.cn/37j3u or use the hashtag on social media.