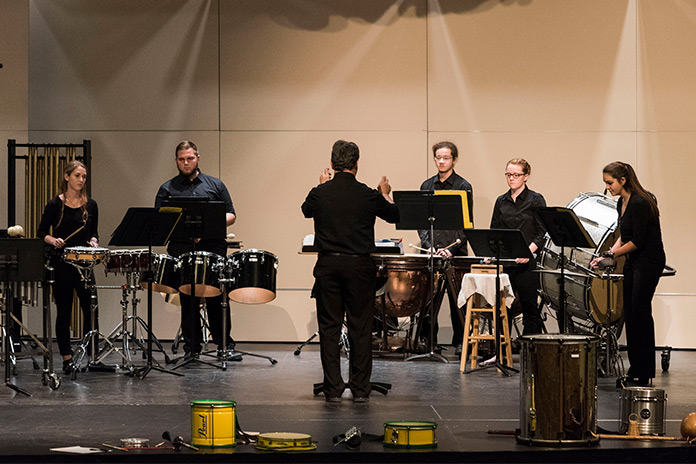 Juniata College percussion concert - photo by Nahui Twomey '18
Where:
Juniata College Campus
Time:
8 a.m. to 5 p.m.
Lunch will be provided
Audience:
Students in grades 7-12 in September 2019
Description:
Percussion enthusiasts will enjoy Juniata's new 5-day, summer percussion camp for students in grades 7–12. The camp will bring together up to 12 participants for a week of percussion ensemble rehearsals, private lessons, and demonstrations on the full gamut of percussion instrumentation: Marching and concert snare drumming, marching tenors, marching melodic bass drums, timpani, keyboard percussion, drum set, "lead" steel pan, as well as African, Brazilian, and Indonesian instrumentation.
Equipment Supplied by the College:
Marching snare drums
concert snare drums
marching tenors
marching melodic bass drums
five timpani (plus a second set to be borrowed from a local school)
three marimbas
vibraphone
xylophone
chimes
bells
3 drum sets
"lead" steel pan
Our African, Brazilian, and Indonesian instrumentation
**Payment, including a $50 non-refundable fee, is due in full at the time of registration. No refunds issued for cancellations made within 2 weeks of the camp.