June 19, 2021 - 7:45 a.m. to 4:55 p.m.
PA State Board of Physical Therapy
8 Hours
Commonwealth of Pennsylvania Department of State Bureau of Professional and Occupational Affairs
8 GEN Credits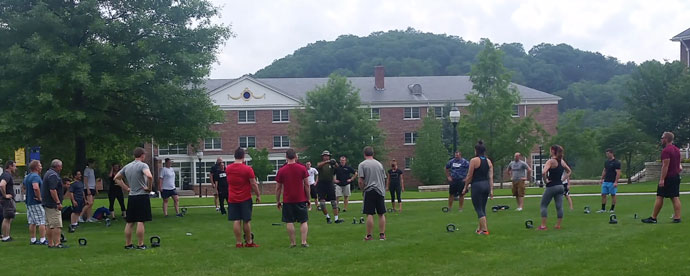 2021 Virtual Sports Performance Conference
$100
$50 additional for PA ACT 48 (attendance logged for submission for approval)
Who Should Attend?
Athletic Trainers
Strength and Conditioning Coaches
Physical Therapists
Athletic Administrators
Personal Trainers
Physical Education Teachers
Fitness Trainers
Athletes interested in Sport-specific training
Anyone interested in Conditioning
Downloadable Event Information
Conference Leadership

Doug Smith
(MS, RSCC*E, NSCA-CPT, CSCS, USAW National Coach)- Clinic Director; Juniata College Strength Coordinator
Read More about Doug Smith

Niki DeSantis
co-chairperson of the Juniata College Strength and Conditioning Clinic
Read More about Niki DeSantis
Non-Discrimination Statement
Juniata College Sports Performance Conference does not discriminate on the basis of race, color, national origin, religion, sex, disability, military status, sexual orientation or age. Juniata is committed to accessibility and non-discrimination in all aspects of its continuing education activities. Participants who have special needs are encouraged to contact program organizers so that all reasonable efforts to accommodate these needs can be made.
Conflict of Interest Policy and Procedure
Provider Disclaimer: In compliance with continuing education requirements, all presenters must disclose any financial or other associations with the manufacturers of commercial products, suppliers of commercial services or commercial supporters as well as any use of unlabeled product(s) or product(s) under investigational use. Juniata College Sports Performance Conference, event committee and the presenters for this seminar do not have financial or other associations with the manufacturers of commercial products, suppliers of commercial services or commercial supporters. This presentation does not involve the unlabeled use of a product or product under investigational use. There was no commercial support for this activity
Approved Continuing Education Presentations
PA Dept. of Education (ACT 48)
Commonwealth of Pennsylvania
Department of State Bureau of Professional and
Occupational Affairs – Board of Physical Therapy
8 GEN Credits
Sponsors & Vendors