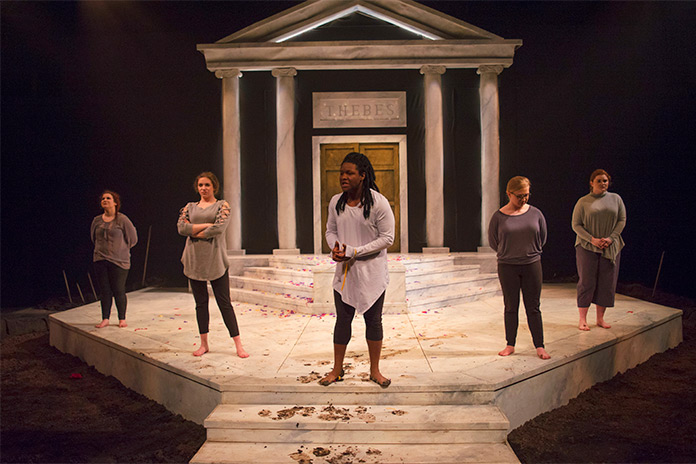 Antigone at Juniata College
Where:
Halbritter Center for Performing Arts
Description:
The Juniata College Theatre Arts Department is offering a week-long summer day camp for students ages 11 to 14. Classes will be held Monday–Friday from 9 a.m.–4 p.m. with lunches provided.
Only a small number of students will be selected to ensure they get quality one-on-one attention. Classes will be centered around acting, playwriting, design, and creating. The final project will be a public showing of a theatre piece all of the students create.
In addition to practical theatre experience, the focus of the camp will be on communication, creativity, and collaboration—critical skills your student will need in high school, college, and beyond.
Typical Daily Schedule:
9 to 9:50 a.m.
Movement
9:50 to 10 a.m.
Break
10 to 10:50 a.m.
Acting
10:50 to 11 a.m.
Break
11 to 11:50 a.m.
Voice
11:50 a.m. to 12:50 p.m.
Lunch
1 p.m. to 1:50 p.m.
Break
1:50 p.m. to 2:50 p.m.
Design
2:50 p.m. to 3 p.m.
Break
3 p.m. to 3:50 p.m.
Devising
3:50 p.m. to 4 p.m.
Parents pick up students
Movement:
In Movement class, students will explore dynamic, expressive movement and communicating through non-verbal gestures.
Acting:
In Acting class, students will begin to incorporate basic acting tools such as action and character. We will examine how the given circumstances—the who, what, when, where—of a story help to set the backdrop for a character's story.
Voice:
In Voice class, students will explore their natural musical instrument and use it to its fullest potential. This course will also focus on building personal confidence in one's own sound.
Design:
In Design class, students will explore color, texture, shape, and form as they create the physical world of the play. Thinking about set, costumes, and lights, students will play with building a world from scratch.
Devising:
In Devising class, students will work collaboratively with the other students (and faculty) to create an original piece for the theatre. This is where all of the elements in the other classes gets put together. The final project will be a public presentation of the project the students create.
Students will have mentorship from Juniata theatre faculty as well as high-performing Juniata students. The high teacher to student ratio means that each student will be well taken care of and receive important and life-changing one-on-one attention.
**Payment, including a $50 non-refundable fee, is due in full at the time of registration. No refunds issued for cancellations made within 2 weeks of the camp.