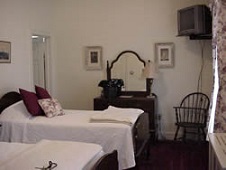 DUE TO COVID-19 RESTRICTIONS
BAKER HOUSE IS CURRENTLY UNAVAILABLE FOR RESERVATIONS.
One of the best kept secrets of Juniata College is our quaint Baker Guest House. In 1976, this house was named the Robert C. Baker House after the late Trustee and brother of John Baker, late Trustee chairman. The guest house is available for those guests looking for cozy lodging that is conveniently located close to campus. This intimate setting provides a unique alternative to standard hotels.
GPS Street Address: 416 17th Street; Huntingdon, PA 16652
Reservation Policies
Lodging is available to guests of the College and personal guests of faculty, staff, students, as well as alumni and outside visitors.
Please note that rooms must be reserved 48 hours prior to stay at Baker Guest House. Also, notice of cancellation must be made 24 hours prior to stay. If notice is less than 24 hours, guests will be charged for the room.
Check-in is at 2:00 p.m. and check-out is at 10:00 a.m. Failure to check-out at 10:00 a.m. will incur an additional day's fee for use of room.
For the safety and convenience of our guests, we ask that the following policies be observed:
No open flames/candles are permitted.
No smoking.
No pets are allowed.
Provided for your use are:
Bed linens
Bath Towels
Pillows
Hair Dryer
Shampoo/Conditioner/Soap
Baker Guest House Room Rates
1, 2, 4 & 5: $50.00 plus taxes, per night.
Room 3 (Apartment with living room): $60.00 plus taxes, per night.
Dining/Living Room: $70.00 plus taxes, per day.
Kitchen: $35.00 plus taxes, per day.
The entire house may be reserved for $365.00 plus taxes, per night.
** prices do not include taxes (sales tax and hotel occupany tax)**