From Impossible to Unstoppable: Nobel Peace Prize Laureate to Speak at Juniata College
(Posted September 28, 2018)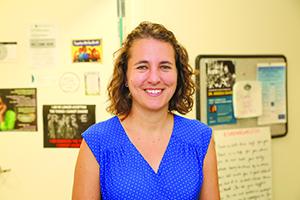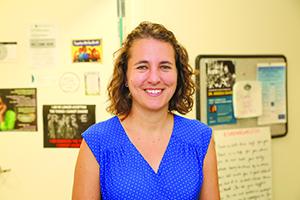 Huntingdon, Pa. – On Monday, Oct. 8 at 7 p.m., Emily Welty, an activist, artist, and Nobel Laureate, will visit Juniata College to give a free, public lecture called "We are Unstoppable, Another World is Possible." The event will be held in Alumni Hall, Brumbaugh Academic Center, and is open to the public and free of charge. In addition to her lecture, the event will feature a Q&A session about Welty's experience in the International Campaign to Abolish Nuclear Weapons (ICAN).
"Emily is a dynamic speaker and committed peacebuilder, and I am excited for our community to have the opportunity to engage with her and her work," says Polly Walker, director of Baker Institute for Peace and Conflict Studies and associate professor of Peace and Conflict Studies.
Welty earned the Nobel Prize for Peace in 2017 for her involvement, with ICAN, in the United Nations negotiations that resulted in the Treaty on the Prohibition of Nuclear Weapons, which is the first legally binding international agreement to comprehensively prohibit nuclear weapons.
In ICAN, Welty works on faith-based engagement in nuclear disarmament. She holds many other titles, as well. For instance, she serves as the director of Peace and Justice Studies and associate professor at Pace University in New York City, where her curriculum focuses on nonviolence, humanitarianism, reconciliation and transitional justice.
Welty earned a Ph.D. from the University of London, a master's degree in international peace and conflict resolution from American University in Washington, D.C., and a bachelor's degree from the College of Wooster in Wooster, Ohio. Her research focuses on the religious dimensions of peacebuilding and emphasizes humanitarianism, nuclear disarmament and nonviolent social movements.
She has shared her expertise by co-authoring Unity in Diversity: Interfaith Dialogue in the Middle East, Occupying Political Science: The Occupy Wall Street Movement from New York to the World and Peace and Justice Studies: Critical Pedagogy, as well as several journal articles.
Welty's presentation is sponsored by the Will Judy Lectureship Fund as well as the Baker Institute for Peace and Conflict Studies. Launched in 1971 through the persistence and vision of Elizabeth Evans Baker, the Baker Institute facilitates presentations by renowned speakers, conducts conflict resolution outreach, raises awareness for nonviolent solutions to contemporary challenges and sponsors peace-inspired activities and experiences for students.
For more information about the Baker Institute for Peace and Peace Studies, which houses the Peace and Conflict Studies program at Juniata and supports the PAX-O activism club, please visit www.juniata.edu/bakerinstitute.
--Written by Taylor M. Smallwood '19--
Contact April Feagley at feaglea@juniata.edu or (814) 641-3131 for more information.