Juniata College Introduces Master's Degrees in Business Administration and Organizational Leadership
(Posted October 9, 2018)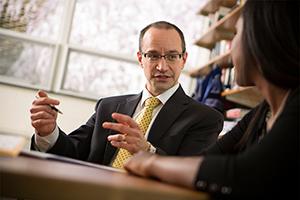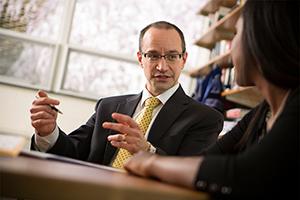 Huntingdon, Pa. – Starting in January 2019, Juniata College will offer master's degrees in business administration (MBA) and organizational leadership (OL). Building on the College's existing offerings, which include master's degrees in accounting and nonprofit leadership, Juniata's newest programs are available online and represent two of a handful of graduate degree programs the College anticipates introducing over the next few years.
"Many of Juniata's successful graduates credit the globally informed, experience-based education used here as critical to their success," says James A. Troha, president of Juniata College. "Our two new online graduate programs are designed very much with that tradition in mind while being delivered across a different medium. Others are forthcoming, and we are excited about our momentum in this area and what it offers to our alumni as well as to the wider community of professionals."
Juniata's master's of business administration (MBA) degree will focus on developing students' technical expertise in the areas of accounting, finance, marketing, economics, human resource management and operations management. The program will include international business study, project management and consulting experience and executive mentors who will partner with students' during their academic journey.  
The National Center of Education Statistics indicates business master's degrees make up nearly 25 percent of all master's degrees awarded with over 185,000 earned in 2014-2015. In 2017, over a quarter million people took the GMAT suggesting strong future interest in MBA programs.
Many prospective graduate students consider the wage premium associated with a particular master's degrees, which indicates the difference between the earnings of workers holding bachelor's degree compared to the earnings of workers holding master's degrees in the same occupation category. In 2015, the Bureau of Labor Statistics founds wage premiums in business occupations ranged from 36 to 89 percent. By comparison, STEM occupations ranged from 18 to 33 percent and education ranged from 14 to 44 percent.
The College's master's degree in organizational leadership will enhance students' leadership skills for the nonprofit, public and for-profit sectors. Students in the OL program will acquire the technical expertise needed to develop strategy, gain knowledge of organizational behavior, improve their ability to communicate effectively with individuals and teams, learn to make ethical decisions, plan strategically and motivate members of organizations with whom they will collaborate. The interdisciplinary structure of the program will make use of the College's distinctive expertise in conflict resolution, enabling students to earn master's degrees that focuses on conflict and change, social entrepreneurship and collaborative partnerships.
For more information on graduate programs at Juniata, visit juniata.edu/gradprograms or contact Dom Peruso, professor of accounting, business, and economics and director of graduate programs at gradprograms@juniata.edu. Both programs are pending approval from the Middle States Commission on Higher Education. 
Contact April Feagley at feaglea@juniata.edu or (814) 641-3131 for more information.