Office for the Prevention of Interpersonal Violence (the SPoT)
During this time of uncertainty, a different routine and the unknown can be stressful. The resources below can provide information and support to our LGBTQ+ community.
If you need individual help, please contact the SPoT with questions, concerns, or for specific help.
Email Jody Althouse at althouj@juniata.edu or leave a phone message 814-641-3077 and Jody will return your call.
LGBTQ+ Resources
National Resources/Hotlines
The Trevor Project
(866) 488-7386
Live Chat with the Trevor Project
The Lesbian, Gay, Bisexual and Transgender National Hotline
(888) 843-4564
The LGBT National Youth Talkline
(Serving youth through age 25)
(800) 246-7743
Crisis Text Line: 741-741
Crisis Text Line Serves anyone, in any type of crisis, providing access to free, 24/7 support and information via text. Simple text 741-741 from anywhere in the USA, anytime, about any type of crisis. A live, trained Crisis Counselor receives the text and responds quickly, helping you "move from a hot moment to a cool moment." Please note that this Crisis Text Line is not specific to LGBTQ+ people.
The TransLifeline Transgender Crisis
(877) 565-8860
National Suicide Prevention Lifeline
(General Community)1-800-273-8255 (24/7)
The National Runaway Safeline
1-800-RUNAWAY
Parents, Families, and Friends of Lesbians and Gays (PFLAG)
https://pflag.org
Additional Resources:
In a pandemic, we are only as healthy as the most vulnerable among us. Read more about how queer and marginalized communities can take care of one another during COVID-19.
https://www.dailyxtra.com/covid-19-lgbtq-community-care-168585
For transgender people, and everyone who has transgender loved ones:
A Know Your Rights Guide for Transgender People Navigating COVID-19 from Transgender Legal Defense and Education Fund
What Trans People Need to Know About COVID-19 from National Center for Transgender Equality
Remember: There may be things you will need specifically if you or a loved one is trans, such as:
Sufficient supply of hormones and syringes
Vaginal dilators or other medical items
Specific grooming or beauty items: razors, make-up, wigs, binders, packing equipment, etc.
Note: Chest binding does not increase one's odds of getting sick with COVID19. If you get any respiratory illness, do not wear a binder so tight it reduces chest capacity.
When possible and applicable, make sure you have access to legal documents, IDs and prescriptions
What to do if you're trans and need to go to the ER, from NewNowNext
Taking Care of Your Mental Health During the Coronavirus Outbreak from AFSP
Most current CDC resources for the general public on COVID-19
Coronavirus 2019: What LGBTQ+ People Should Know from the National LGBTQ Cancer Network
Lesbian, gay, bisexual, transgender and queer/questioning (LGBTQ) youth experience dating abuse at the same rates and in similar ways as heterosexual couples do. In fact, one in three young people — straight, gay and everyone in between — experience some form of dating abuse.
LGBTQ Relationship Violence
Abusive partners in LGBTQ relationships use all the same tactics to gain power and control as abusive partners in heterosexual relationships — physical, sexual or emotional abuse, financial control, isolation and more.
But abusive partners in LGBTQ relationships also reinforce their tactics that maintain power and control with societal factors that compound the complexity a survivor faces in leaving or getting safe in an LGBTQ relationship.
Tactics of Power & Control
"Outing" a partner's sexual orientation or gender identity. Abusive partners in LGBTQ relationships may threaten to 'out' victims to family members, employers, community members and others.
Saying that no one will help the victim because s/he is lesbian, gay, bisexual or transgender, or that for this reason, the partner "deserves" the abuse.
Justifying the abuse with the notion that a partner is not "really" lesbian, gay, bisexual or transgender (i.e. the victim may once have had/may still have relationships, or express a gender identity, inconsistent with the abuser's definitions of these terms). This can be used both as a tool in verbal and emotional abuse as well as to further the isolation of a victim from the community.
Monopolizing support resources through an abusive partner's manipulation of friends and family supports and generating sympathy and trust in order to cut off these resources to the victim. This is a particular issue to members of the LGBTQ community where they may be fewer specific resources, neighborhoods or social outlets.
Portraying the violence as mutual and even consensual, or as an expression of masculinity or some other "desirable" trait.
National Domestic Violence Organization
Love Is Respect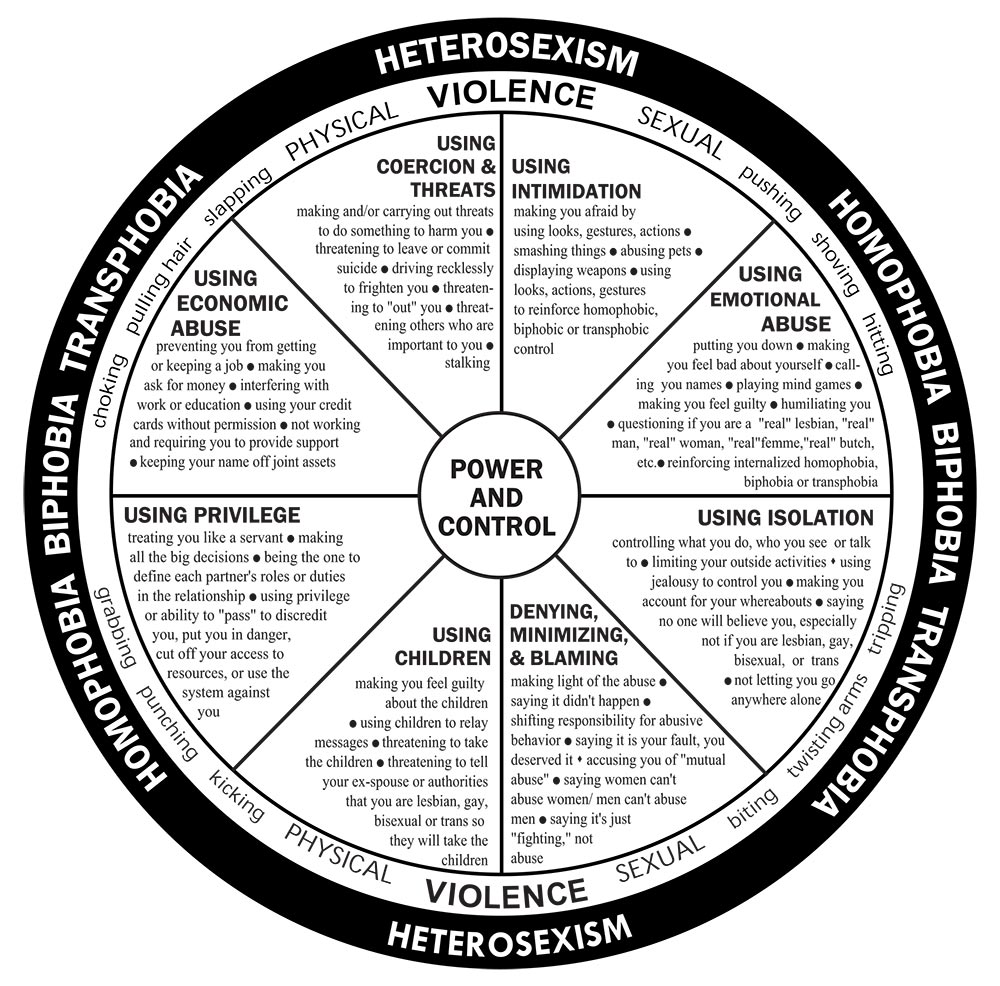 How to Deal with Self Harm
We all need healthy ways to cope with the hard stuff. We're here to help you find a healthy alternative to self-harm. For some people, when depression and anxiety lead to a tornado of emotions, they turn to self-harm looking for a release. Self-harm and self-injury are any forms of hurting oneself on purpose. Usually, when people self-harm, they do not do so as a suicide attempt. Rather, they self-harm as a way to release painful emotions.
Crisis Text Line Organization (for self-harm)