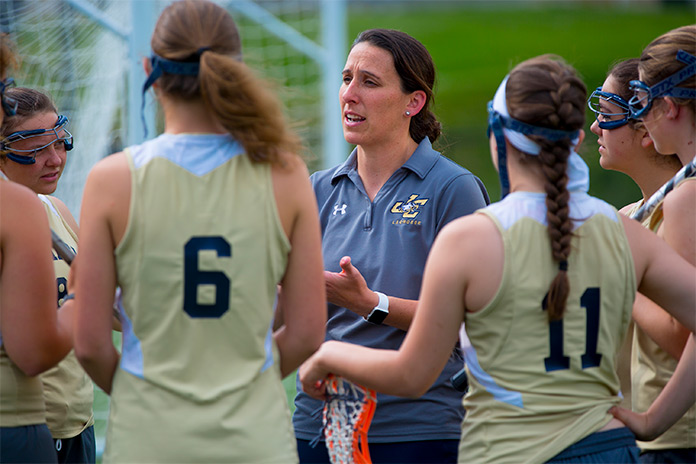 Juniata College Head Women's Lacrosse Coach, Naomi Radio
Where:
Gibbel Stadium, Winton Hill Athletic Complex
Audience:
Current lacrosse players in grades 9-12
Registration Fee
Early Bird fee- $50
Fee increases to $65 after September 1st
Description:
The Prospect Day is an opportunity for high school players who are interested in playing lacrosse at the next level and specifically at Juniata to work with our coaches, meet our team and experience campus all in one day! Start the day with a tour of campus followed by a practice session with our players and coaches. We'll then take a break for lunch and wrap up the day with an Information/Q&A Session. The event will be limited to 30 participants to ensure a full evaluation of players.
Schedule:
10:15 AM
Check-in at Gibbel Stadium
10:30 AM
Campus Tour
11:30 AM
Play Lax
1:00 PM
Lunch in Baker Refectory
2:00 PM
Admissions and Lacrosse Info Session
What to Bring:
Stick
Goggles
Mouth Guard
Cleats/Turfs and Sneakers
Water Bottle
*Goalkeepers should bring all goalkeeping equipment including stick, gloves, helmet with throat protector, chest protector, thigh pads, and shin guards
Clinic Director
Juniata College Head Women's Lacrosse Coach, Naomi Radio
In her Mountaineer playing career at Mount St. Mary's University in Emmitsburg, MD, Radio was a two-time Academic All-America First Team selection, named All-Northeast Conference (NEC) three times, including being named to the First Team twice and earning Player of the Year honors in 2004. She finished her career as the all-time leader in saves at The Mount, totaling 770 from 2002-05, a mark which ranks 22nd in Division I history.
Radio is also The Mount's career leader in minutes (4,342:50) and wins (41) while leading the NEC in saves percentage three consecutive years. In addition to being named All-NEC First Team and NEC Player of the Year in 2004, she led the conference in goals against average and save percentage and totaled a school-record 225 saves. Radio was inducted into the Mount Saint Mary's Athletic Hall of Fame in January 2016.