Career Outcomes
Our results are proven by national test scores, by student employment placements, by alumni engagement, and by our students' successes in external competitions. Most of our graduates obtain employment by the fall of their graduation year. In addition many of our ABE graduates go onto graduate school or obtain advanced certification as CPA's, CFA's and more!
Graduating seniors in ABE routinely score at or above the 80th percentile on the Major Field Test for business. This national exam is administered each year by the Educational Testing Service, the same people who administer the SATs.
Each year students in the business honor society, Tau Pi Phi, compete in an intercollegiate case competitions. These include the Finance Case Competition at McDaniel College and the Tau Pi Phi case competition in Pittsburgh, PA.
Kristen Penska and fellow Juniata students participated in the Tau Pi Phi competition (2010). As a group Kristen Penska, Zach Jensen, and Shane Gallagher received second place in the three person category of the competition. Kristen stated "The Tai Pi Phi Competition consisted of two Harvard Case Studies. Each was approximately 7-8 pages and consisted of a general business problem. As a group, Zach Jensen, Shane Gallagher, and I drafted an executive summary and created a power point expressing our solution to each of these business problems. We presented these solutions to a panel of three nonacademic judges; meaning they were business owners or work for a business. The judges scored us on our knowledge of case background, our solution, and our overall presentation. The competition was fun; it was great to work with two people who were knowledgeable about different things."
Students
Adena Delozier and Christine Sumner at the 2015 Tau Pi Phi Case Competition.
Congratulations to Alex Davis, Sara Long, Derek Heath, Tara Black and Vinny Smith for winning the Gill/McDaniel College Finance Case Competition! The competition took place Wednesday, October 10, 2012, at McDaniel College. Also, a special thanks to Professor Kathy Baughman for her help in preparation for the competition.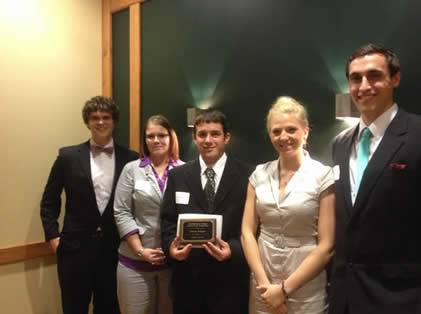 Congratulations to Gabriel Castro, Megan Coutts, Lindsey Darchicourt, Russ Gray, and Vinny Smith for winning the Gill/McDaniel College Finance Case Competition! The competition took place Wednesday, October 19, 2011, at McDaniel College. A special thanks to Professor's Randy Rosenberger and Kathy Baughman for their help in preparation for the competition.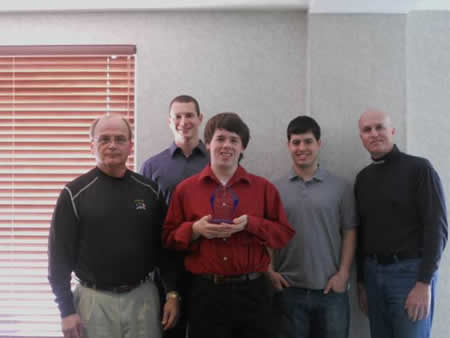 In spring 2011, Juniata students pictured above took second place in the three person category of the case competition. In the photo (left to right) are Provost Jim Lakso, Zachary Jensen, Jared Clark, and Professor Randy Rosenberger. In the second row is Kyle Brewer. Spring 2011 participants. (left to right) 1st row Chau Nguyen ­­, Lindsay Darchicourt 2nd row Zachary Jensen, Caitlin Bigelow, and Jared Clark 3rd row Kyle Brewer, Andy Wolfe, Kevin Rivas and Professor Randy Rosenberger.

Other participants for this spring 2011 case competition include (left to right) Chau Nguyen and Lindsay Darchicourt in the front row; Zachary Jensen, Caitlin Bigelow, and Jared Clark in the middle row; and Kyle Brewer, Andy Wolfe, Kevin Rivas and Professor Randy Rosenberger in the back row.
OUR ALUMNI
Caitlin Bigelow '11 is employed as a marketing and social media associate at Rokenbok Toy Company in Solana Beach, Calif. While at Juniata, Caitlin founded Something Sunny, a highly successful designer-frame company that branched out to include artistic prints and cards. She continues to operate and grow Something Sunny.
William T. Campbell '10, a former JCEL intern, is currently employed as a business development officer at Juniata Valley Bank in Lewistown, Pa. .
Gabe Castro '12 is employed by Vanguard. His career focuses on investment analysis and relationship management.
Vanessa Cerria '10 is employed as a Clinical Recruiter at Aerotek Staffing. She credits Managerial Accounting with Pat Weaver, Technical Writing with Carol Peters and Marketing Strategies with Jim Donaldson as the courses that most taught her "how to think outside the box." Professor Randy Rosenberger invited an alum to class who served as the liaison to Vanessa's current job role.
Elise Ebert '10 is employed as an Assistant Product Manager for Creative Designs International-JAKKS Pacific, an international toy company. "I work daily with a wide range of people both intra-office and internationally to coordinate product development projects," Elise says. "Studying International Business and Spanish at Juniata gave me both the cultural and business understanding I need to succeed at my job. By attending a liberal arts school like Juniata, I was also exposed to classes outside my major that have enhanced my creative thinking, team-work ability and communication skills, both written and verbal."
Amanda Fulmer '09 is employed as a Marketing Assistant for American Mint, LLC. She credits her internship at PennFuture during the summer of 2008 with giving her the experience she needed for her current role.
Chris Fulton '16 got a job offer from JB Hunt and started working right after he graduated in 2015. He moved down to Arkansas and did great work in JB Hunt's headquarters. It is worth mentioning that he got the interview opportunity at the Juniata Career Fair. In just a few short months, he was able to leap frog his peers and people that are much older and experienced than him and be promoted to a managerial position.
Natalie Glinsky '13 is employed as a cost accountant with PPG Industries, Inc. of Oak Creek, Wis.
Harrison Grubb '12 is employed as a financial leadership development trainer at PPG Industries in Milwaukee, Wis.
Krista Hawn '14 is currently employed as a manager at Agri-Service, L.L.C. in Belleville, Md.
Amelia Hewner '09 is employed as the Finance Coordinator at the Massachusetts Museum of Contemporary Art. She credits her junior year internship in the budget and curatorial departments with Lowell National Historical Park in Lowell, Mass. as the key to landing her current position. Her unique blend of business courses and museum studies in her POE helped uniquely prepare for her multi-faceted position.
Nate Higgins '13 is currently enrolled in Notre Dame's ESTEEM Masters program, an entrepreneurial program where he will study a combination of science and business.
Kristen Holloway '97 - Meets President Bush
Kristen Holloway greeted President Bush at the Wheeling-Ohio County Airport on March 29, 2006. Later that day at a Wheeling town hall meeting, Holloway was recognized by the President for supporting the troops through her non-profit organization, Operation Troop Appreciation. Holloway is the creator and president of Operation Troop Appreciation, which is dedicated to supporting the troops fighting in Iraq and Afghanistan. Since its creation in 2004, Operation Troop Appreciation has touched over 10,000 soldiers with care packages tailored to meet the needs and requests of each unit. These packages include donations of DVD's, phone cards, sports equipment, and a letter expressing thanks to each soldier.
Paul Kuhn '15 is a Systems Analyst at UPMC in the Information Services Division Rotational (ISDR) program. This is an accelerated two-year leadership development program focused on building a strong foundation in information services management through four distinct six-month rotations. He is gaining an understanding of technical, operational, and managerial practices involving information technology in the healthcare setting. In his first rotation he was responsible for testing network connection at several healthcare locations and developing a model to mitigate network slowness across the enterprise. In his current rotation he is in charge of facilitating the implementation and support of telemedicine solutions for healthcare locations in the Altoona region. Telemedicine technology provides patients all across the region with access to the specialized care of physicians here in Pittsburgh.

Michael Lifshitz '16 will be working in the internal audit division of State Street Corporation in Boston, Massachusetts.
Cheryl Mariani '12, who started Eagle Furniture Exchange through JCEL, is pursuing a graduate degree in international educational development at the University of Pennsylvania.
Frank Marino '16 is employed as a software sales representative at Qualtrics in Salt Lake City, Utah.
Jess Matlack '14 is employed as a recruiter for JFC Staff Companies. As a recruiter she works with companies in the Lancaster County PA area to find local talent. She specializes in Skilled Trades, which means working with electricians, maintenance mechanics, machinists, welders, and other trades. In a typical day she sources candidates, conducts interviews, performs reference checks, negotiates pay-rates and benefits, makes sales calls, and manages employees once they are placed in a position.
Gerald B. Miceli '06 - Holds the 2009 Stanley Cup
As an auditor for Deloitte and Touche in Pittsburgh, Gerald Micelli gets to work with many interesting customers. One of his clients, the Pittsburgh Penguins, was a success and won the Stanly Cup in the Spring/Summer of 2009. Gerald was able to celebrate this victory with them with the VP and CFO of the Pens.
Kristen Penska '11 is employed as a performance and cost control engineer by Westinghouse Corporation in Pittsburgh, Pa.
William Powers '14 is currently employed at Fulton Financial Corporation in Lancaster, Pa.
Tanisha Raffensberger '10 is employed as a Junior Staff Accountant at Bonney Forge Corporation in Mt. Union, Pa. Tanisha pointed to the perseverance she gained at Juniata in helping her with a job search in a recession, saying, "My experience at Juniata taught me to be persistent and broaden my horizons in order to find a job that suits me well. The educational experience that you receive from Juniata prepares you well for what the work environment hands you."
Sean Rainey '11 is employed as a staff accountant at Rex Energy in State College, Pa.
Coleman Rigg '15 is employed as a Junior Account Executive at FVM which is a Marketing/Advertising agency outside of Philadelphia, Pa. His role is largely project management and research. On the project management side, he oversees and manages specific marketing tactics and on the research side, he is heavily involved with new clients. All of
this work is then consolidated and can be presented to clients.
Richard Rudolph '09 is employed as a senior cash management analyst at PPG Industries in Pittsburgh, Pa.
Vinny Smith '13 continues to operate Proficient Social, a business consulting company.
Adam Snyder '99 - Meets Warren Buffet
Adam Snyder, '99 is seen here meeting financial baron, Warren Buffet. Snyder and a group of his colleagues spent the day with Buffet probing his vast financial skills at a question and answer session and lunch at Buffet's favorite steakhouse. Snyder will graduate from Columbia University in May of 2006 with a Master of Business Administration. He is also a licensed Chartered Financial Analyst and has traded on Wall Street. While at Juniata, Snyder was a winner of the annual Tau Pi Phi Case Competition and received the Wall Street Journal Student Achievement Award.
Rob Strauss '13 is employed in the financial management rotation program at University of Pittsburgh Medical Center, where he completed an internship in the summer of 2012.
Jenna Taylor '07 is currently employed as the Assistant General Manager of the North Austin Plaza Hotel & Suites in Austin, Texas while also pursuing her master's in elementary education. Jenna cites her internship at the Raystown Visitors' Bureau -- which was mentored by Randy Rosenberger -- as helping her find her niche in the hospitality industry.
Colt Thomas '09 is employed with PPG Industries through the Financial Leadership Development (FLD) Program. This Program trains recent graduates, who are seeking careers that integrate finance and accounting with manufacturing. His Career path includes: Summer 2008: FLD intern, for PPG Auto Glass at the Pittsburgh Headquarters-- 2009-2010: FLD Trainee, for Transitions Optical in Pinellas Park, FL, and currently he is a Cost Accountant of Transitions Optical in Pinellas Park, FL. For more information about the FLD program go to this link FLD program.
Yuanding Wang '11 is enrolled in the master's program in economics at University of Connecticut.
Jessica Zuzik '08 is employed in Admissions at the University of San Francisco. She plans to continue her employment here while also pursuing a master's degree in global entrepreneurship and management. Her Juniata inspiration is Celia Cook-Huffman and she most enjoyed working at the European Union while studying abroad in Brussels.